Gallery plan b Closes—Gallery Neptune & Brown Opens in its Stead
In June, Gallery plan b closed its doors on 14th Street NW after operating for over ten years. One of the first galleries to open in the area, plan b provided a venue for many local artists to exhibit group and solo exhibitions. Fortunately, unlike most gallery closures, the vacant space has not become another eatery, luxury condominium or national chain. Instead, a new gallery, Gallery Neptune & Brown, has opened in its stead. Former director of Gallery plan b David Kalamar will serve as associate director of the new gallery. Gallery Neptune and Robert Brown Gallery, which both have locations in Georgetown's Book Hill, have partnered with Kalamar to create a "satellite space" in the 14th street arts district. Both Neptune and Brown work with high-end collections and represent well established artists. In an area where galleries like Hamiltonian push the envelope with socially charge exhibitions like last month's Stockholm Syndrome by Larry Cook and Transformer lionizes emerging local artists like Amy Hughes Braden in their current E:12 series, the addition of Gallery Neptune & Brown will add an "establishment" presence to the Mid City's gallery scene. This is not to imply that Neptune & Brown Gallery will not fit in with the surrounding neighborhood but rather, that the gallery's exhibition schedule will provide an alternative to the bleeding-edge contemporaneity that abounds on 14th Street.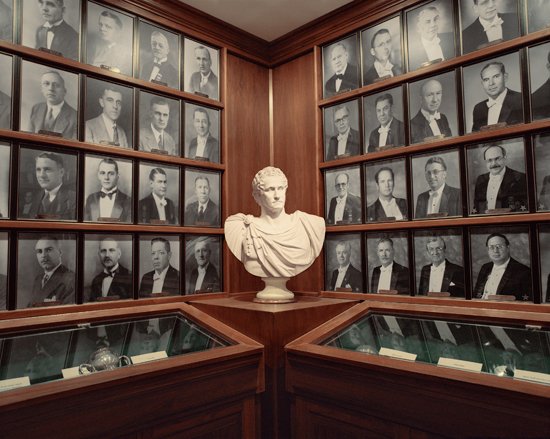 Conspiracy and Solipsism at Hamiltonian
At Hamiltonian, Adam Ryder attempts to prove the existence of a secret society named Renovatio Imperii, Latin for Restoration of the Empire. According Ryder, Renovatio Imperii, is an obscure fraternal organization that not only claims ties to the Roman Imperium but also wields power worldwide affecting global decision-making and the fate of others, much like the better-known illuminati. Ryder will attempt to "out" this group of men through photography, found imagery and other media creating in effect a site-specific "altar" that seemingly exalts the existence of these men in addition to exposing them.
The second concurrent exhibition at Hamiltonian, Alone in the Woods by Dan Perkins focuses inward. In contrast to Ryder's attempt at uncovering that which seeks to remain hidden, Perkins adopts a solipsistic philosophy, one which contends that only the "self" exists and only the "self" can be proven to exist. Ultimately, Perkins is a painter whose works, according to the artist, "dialogue with 19th century notions of the picturesque, sublime, and transcendent, mining romantic painting traditions for depictions of the sublime." However, Perkins does not take these notions seriously. On the contrary, not lacking a sense of humor, he injects new forms into these landscapes creating amusing incongruities between a rigid backdrop and playful new elements. However, while he playfully disrupts these formal descriptions of landscapes, the juxtaposition between the old and new results in the creation a tense and somewhat anxious world.
Annual Mini-Solos showcases local artists at Touchstone
The Mini-Solos at Touchstone exhibits non-member regional artists, many of whom are emerging, giving them an opportunity to show a body of work in a professionally curated gallery setting. This annual series of mini-exhibitions is an excellent opportunity for audiences to explore up-and-coming artists and artists who may have been lying dormant only to be discovered on this occasion. This year, 38 artists will participate as follows: Lisa Allen, Mark H. Anderson, Carmencita Balagtas, Leni Berliner, Ray Bogle, Stephen Borko, Sally Canzoneri, Raquel Esquives, Michael Fischerkeller, Karen Fitzgerald, Steven Fleming, Chuck Fletcher, Lloyd Foster, Gil Narro Garcia, Bradley Gay, M. Alexander Gray, Tricia Harvey, Jaine Was Here, Veronika Jenke, Aleksandra Katargina, Ai-Wen Wu Kratz, Karen Kumm Morris, Paula Lantz, Shelley Lowenstein, Chris Luckman, Nipun Manda, Stephen Marcus, Tess Muth, Claudia Olivos, Carolyn Rogers, Federico A. Ruiz, James Shumate, TIMU, Lisa Tureson, Weller Van Nostrand, Karen Watson, Tracie Weir, Andrew Wohl.
August Mid City Gallery Exhibition
AAAS Gallery
1200 New York Ave NW, Washington, DC 20005
202.326.6400 | www.aaas.org
Through August 15
Technovisual: Art in the Age of Code
GALLERY NEPTUNE & BROWN
1530 14th Street NW, Washington, DC 20005
202.986.1200
Summer Splash on 14th Street
Through 5 September 2015
Featuring Polly Apfelbaum, Alex Katz and Richard Serra
HAMILTONIAN GALLERY
1353 U Street NW, Washington, DC 20009
202.332.1116 | www.hamiltoniangallery.com
Two concurrent exhibitions—Renovatio Imperii by Adam Ryder and Dan Perkin's Alone In the Woods
August 8 – September 12
LONG VIEW GALLERY
1234 Ninth Street NW, Washington, DC 20001
202.232.4788 | www.longviewgallerydc.com
Through August 16
New Year/New Artists Group Exhibition
TOUCHSTONE GALLERY
901 New York Ave NW, Washington DC 20001
202.347.2787 | www.touchstonegallery.com
Mini Solos
August 7-27
TRANSFORMER
1404 P Street NW, Washington, DC 20005
202.483.1102 | www.transformerdc.org
E:12 Social Practice Lab (Featuring four local resident artists)
Through August 15