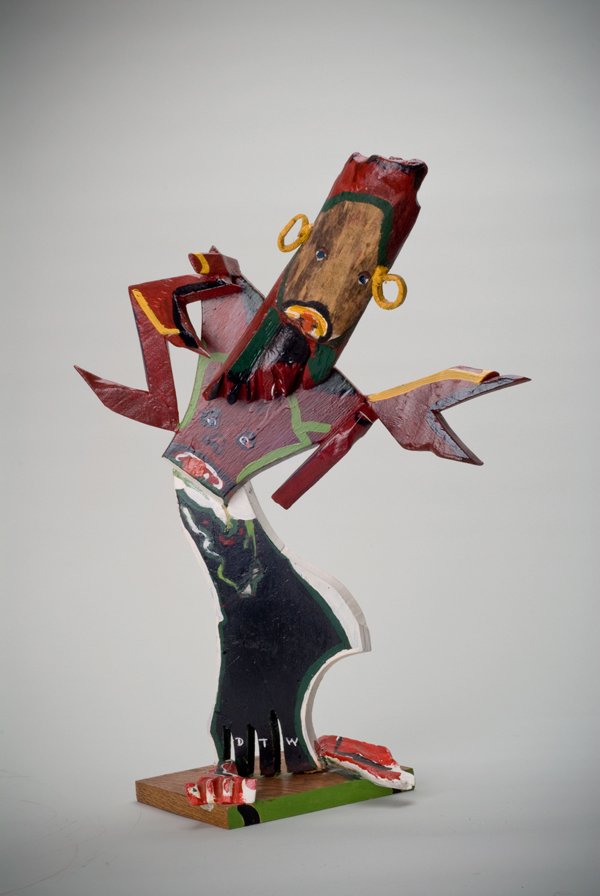 The Backyard of Derek Webster's Imagination, currently on view at the Smithsonian Anacostia Community Museum (ACM), exhibits works by self-taught artist Derek Webster (1934-2009).  All works come from the ACM's the Regenia A. Perry Folk Art Collection.
Curated by Nada Alaradi, the exhibit provides posthumous biographical information with an emphasis on Webster's life as an artist while highlighting works from various periods in his artistic career.  A 20 minute video interview with the artist gives insight into the artist's environment and process. The ACM's Deputy Director Sharon Reinckens selected Fulbright scholar Alaradi, originally from Bahrain, to inaugurate the museum's Emerging Curator Program.  Alaradi graduated this year with a Master's in Fine Arts in Curatorial Practices from Maryland Institute College of Art.
Derek Webster's Life
Born in Honduras and raised in British Honduras (now Belize), Afro-Latino artist Derek Webster spent his 20s and 30s working on ships that traveled as far away as Haiti, Cuba, Portugal and Liberia. After zigzagging the Atlantic Ocean and Gulf of Mexico, Webster moved to Chicago with to live with his sister in 1964.  After years of working as a janitor for the Michael Reese Hospital, Webster saved enough money to purchase a home.
An avid gardener, Webster sought to keep his dog from unearthing newly planted vegetables and herbs.  At 3 a.m., Webster describes how, in a dream, he had found a solution to protecting his plants—he would build a fence with found materials. However, Webster ended-up creating more than just a fence; what he fashioned with his hands would propel an indefatigable desire to create more sculptural forms.  He created his work from found objects, driftwood he collected along the shore of Lake Michigan where he fished and old cans of household paint.
Now is his mid-40s, having completed his first work of art—while protecting his garden—Webster began creating a series of  large scale sculptures at a frenetic pace which he placed all around the property eventually surrounding his brick home. His sculpture garden first drew the support and affection of his neighbors. Then, in turn, his home became a neighborhood hotspot and, eventually, a regional destination.
A Chicago gallerist happened to take a wrong turn and wound up driving by Webster's residence.  Amazed by what he saw, Paul Waggoner offered Webster a solo exhibition at the Phylis Kind Gallery in 1982.  The initial success of Webster's solo exhibition eventually propelled him into the national spotlight when the Dallas Museum of Art exhibited his work in group show Black Art, Ancestral Legacy: The African Impulse in African-American Art on view December 3, 1989 through February 5, 1990.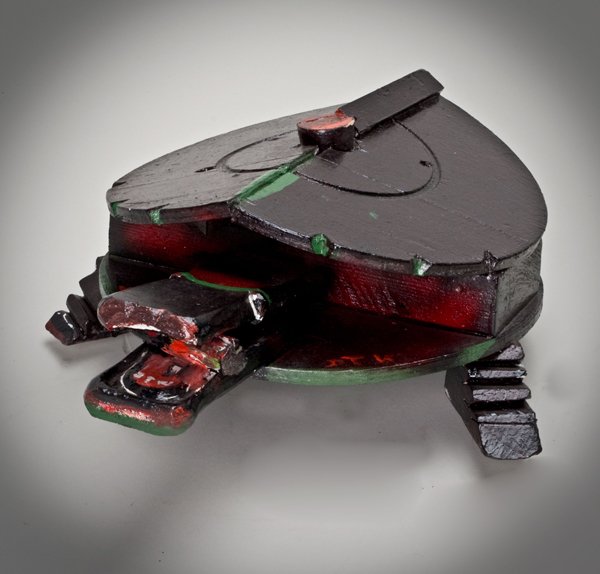 Derek Webster's Work and Legacy
While Wester's name may sound Anglophone, Webster is in fact Afro-Latino and his native tongue is Spanish.  His work reflects his Afro-Latino heritage both in subject matter and in its influence.  Despite settling in Chicago and traveling around the world, the artist's childhood experiences in Central America made a permanent imprint on the artist's worldview.
Webster created a series of turtles, a prominent symbol in Mayan culture, the indigenous culture of Belize and the Yucatan, Mexico.  In Mayan culture, turtles represent health, steadfastness and longevity. Webster's turtles, made from found objects, vary in shapes, sizes and forms.  Like much of his work, faces appear in unexpected areas carved out of the wood on the edges or the sides of the sculptures.  Webster adorned one of his turtles with found Chicago souvenirs such as plates and keychains.
Dancers also figure prominently in Webster's work.  Belizean traditions of carnival, with colorful costumes and traditional dances, translate into a series of figures which Webster affectionately referred to as his "fancy ladies."  In fact, Webster talked to his ladies and bid them a sorrowful farewell when purchased.  His dancers possess kinetic gestures that harken back to the artist's childhood memories of carnival and dancing.
By the 1990s, Webster turned to using a single object such as a glass bottle to create three dimensional works with more definitive forms. As time passed, Webster's work grew more whimsical and more playful.
Anacostia Youth Community Project
Webster's Plate Lady served as the template for a recently completed youth art project in Anacostia.  The curator included 40 pieces created by local youth in the exhibition using a plate and other objects.  Participants from the Capital City Public Charter School, Project Create and Children's Health Center-Anacostia now have their work incorporated into the exhibition as homage to Webster and his artistic legacy.
---
The Back Yard of Derek Webster's Imagination is on view through April 23, 2017.  The Smithsonian Anacostia Community Museum is located at 1901 Fort Place SE, Washington, DC 20020.  The Gallery is open daily from 10:00 a.m. to 5:00 p.m. and is closed December 25.  Admission is free.  Contact the gallery at 202.633.4820 or visit the ACM online at anacostia.si.edu