Without a doubt, the most interesting and arresting painting in the current solo exhibit of recent work by Maryanne Pollock is her Rebirth the Earth (2021), also the title of the show.  Against a black background that appears cosmic, explosions of aqua, blue and white acrylic burst forward, along with translucent orbs that seem to be in a state of formation.  Smaller orbs in white and blue, along with dotted star-like structures surround an earth-like form in the center.  The artist is a climate activist, and feels the need to respond to the destruction of hurricanes like Maria in 2017, the worst natural disaster in recorded history to affect the Caribbean islands, and thus to the ravages of climate change. Yet, she sees a future being born out of the chaos, a new earth that is vital and creative.  She uses the black background in a number of the painted works in this show, which she views as the "void of black as the origin of all life, a fertile soil," although the paintings seem to reference deep space rather than earthly soil.  The cosmic feeling, and spiritual aspect of this recalls the work and the influence of Richard Pousette-Dart, whom Pollock calls her mentor, and who was termed "the transcendental expressionist" in an important 1961 article by Jack Kroll in ARTNews.[1]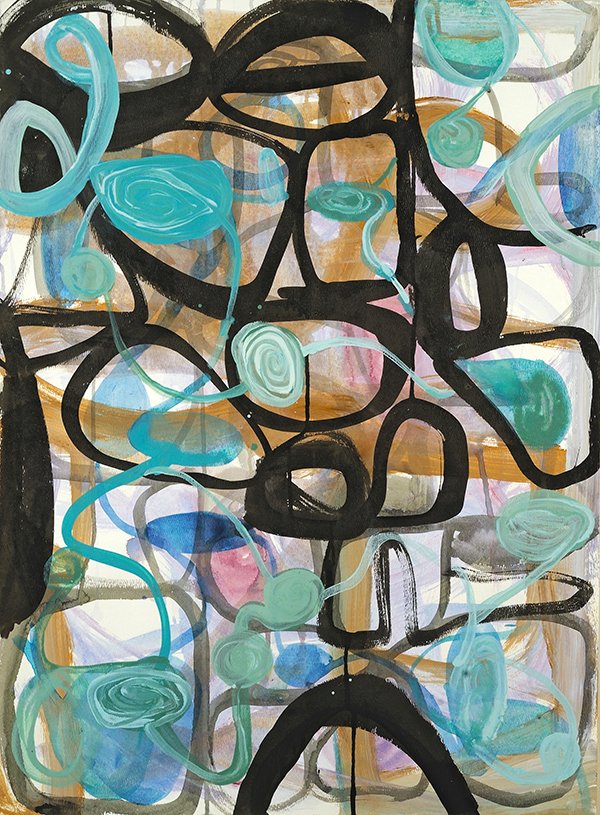 Pollock, a world traveler, who spent six years in Cairo, Egypt as well as time in Rome, has an approach to her work that leads her to employ various styles concurrently, depending on her immediate inspiration.  Therefore, the works in this show vary rather radically, and not always successfully.  However, one formal link among most of them, whether paintings on canvas in acrylic and other media, or the large number of mixed media on paper works included, is a gestural line, usually meandering and forming small loops.  These are visible in a thinly applied blue in Rebirth the Earth, but are the featured element in many of the paper works.  Among them, two framed pieces stand out:  Obispo Aqua (2015) and Obispo Mauve (2016).[2]  Somewhat reminiscent of Brice Marden's late paintings, or occasionally of Lee Krasner, they are light and shimmery, with visible layers of color beneath the black lines, as in the former or rather bold,  connecting purple forms among the gestural lines against the white surface in the latter.  To me, these were the strongest of Pollock's style, while the titular painting may represent a new direction in her work.
Rebirth the Earth: Maryanne Pollock, Gallery 2112, 2112 R St. NW, Washington DC 20008, October 1- November 14, 2021.  Gallery hours: Saturday – Sunday, 12-5 pm and by appointment. 202-213-9768 | info@gallery2112.com.
---
[1] Cf. https://www.artnews.com/art-news/retrospective/transcendental-expressionist-jack-kroll-on-the-art-of-richard-pousette-dart-in-1961-6918/
[2] Obispo is Spanish for bishop.  The reference is unclear, but the religious aspect of Pollock's painting is also reminiscent of Harold Rosenberg's reference to Abstract Expressionism as "essentially as religious movement" and Pousette-Dart referred to himself as a "religious painter".  Cf. Kroll in n. 1.