As one approaches the spiral staircase of the Art Museum of the Americas, he or she is confronted by a large wall text concerning the featured installation exhibit. It begins with a quoted sentence concerning color:
"There is no transnational truth to color perception… It is society that 'makes' color, defines it and gives its meaning." -Michel Pastoureau
Pastoureau is the author of a number of books about the history and symbolism of colors. He has covered at least three, among them red. And the quotation is appropriate here. Carolina Mayorga has been focusing on the color pink for about seven years now, in performances and installations, and her use of this color in such abundance in this installation may, at first, be alienating. Having spent most of an afternoon researching the artist's history with it, it appears considerably more complex than one might at first think. Pastoureau's idea that society "makes" a color is certainly true. Our associations with colors are most heavily influenced by when and where we are living. A good example of this is the color red, which remains rather equivocal. On one side it is associated with divine love and the color of Christ's blood. On the other it is associated with fire and the devil—and everything in between.
So it is with pink. It is a color definitively associated with girls in our culture. Victoria Secret has had a special brand for girls for about ten years called "PINK" and I doubt anyone hasn't seen girls and young women wearing the brand on clothes that are not necessarily pink. It's quite brilliant—the name of the color in this case doesn't conjure it, but instead the VS brand. In a particular shade, pink is also the color of "Pepto Bismol", and thus associated by many with a particularly unpleasant sickness.
Mayorga has made pink her brand. Her aim is not to diminish, but to exalt the color that often appears in Latin American art, always associated with women and girls. It therefore connotes "sugar and spice, and everything nice" as "that's what little girls are made of," according to the nursery rhyme that we know all too well. From our childhoods then, pink is not only to be associated with women and girls, but with sweetness and niceness. Mayorga deliberately plays with this notion, using the color in representations of ranchos y cambuches (huts and shacks) that are the homes of the poor, the desperate, the alienated and the displaced. PINK ranchos and other ephemeral zip codes thus refers specifically to the oppression of women and girls especially, but more generally, to large portions of the populations of Latin American countries, especially those where the split in living conditions between the wealthy and the poor is extremely sharp, and where the violence and terror inflicted by governments and/or gangs is most commonly directed at families with children living in ephemeral housing and economic deprivation.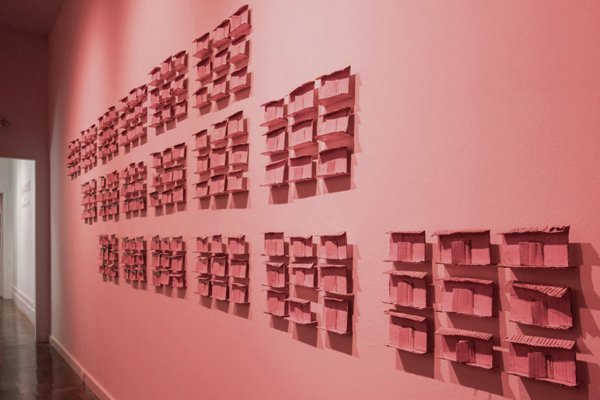 The works in the first room of the exhibit speak directly to this argument. In a completely pink environment—a kind of "pink wash"—one wall is covered with a series of identical little cardboard "houses" in low relief rows. This, the CG Prime Housing Projects, represents "better" pre-fabricated housing made for economically deprived people. But, they are still ephemeral—they're made of cardboard. They're "prime" because they're made from Amazon Prime boxes. Their pink color should mean they're nice, but of course, they're not. Yet, they are definitely a "step-up" from ranchos y cambuches. Across from this wall are a series of pink constructions representing those, each a bit more ramshackle than the next. Visible inside each is a tiny video screen. The videos tell the story that defies the "niceness" connoted by the coloration. In one the artist's signature pink high heeled boots come into to crush drawn paper dolls of a sad looking woman and girl. In others we see the artist's hand drawing the figures, only to be smacked away. The pink says, "everything is all right, in fact, it's wonderful." The images say the opposite. It recalls the kind of rhetoric you might have heard from a Daniel Ortega or a Nicolas Maduro.
The small videos inside the ranchos are scaled up in very large video projections in the next room. A piano altered by Alberto Gaitán, painted pink, sits in the center. When played, certain keys stimulate audio of testimonials given to the Inter-American Commission on Human Rights from victims of violence and oppression, while Mayorga's pink boots dance and crush paper dolls. The dance moves were performed at the opening of the exhibit while Juan Felipe Mayorga played the piano. They are elements of Cambuche Party: A Pink Musical, which the artist describes as "a performance composed of three musical numbers" inspired by life in "cambuches, ranchos and other ephemeral zip codes" and which is going on an international tour beginning in the artist's native Colombia this year.
The museum's invitation to Mayorga asked her to interact and respond to works in their permanent collection. Some of the works that inspired her are on display on the third floor, along with a few of her drawings related to that investigation. Among them, Ricardo Supisiche's Mujer Frente a su Rancho (Woman in front of her hut) of 1967 and Ignacio Iturria's Cuarto de Cristina (Cristina's Room) painted in oil on corrugated cardboard (Uruguay, 1992) seem the most relevant to the house constructions and the ranchos in the first room. Also significant were works by Cuban artist Amelia Pelaez in the collection, including the childlike Blue Angel (1945), the densely packed images of children and adults painted by Brazilian artist Rubens Gerchman, such as his Moradas Colectivas (Tenement Houses) from 1964, and the pink mannequins in The Dollies by Panamanian artist Beatrix Briceño (1968).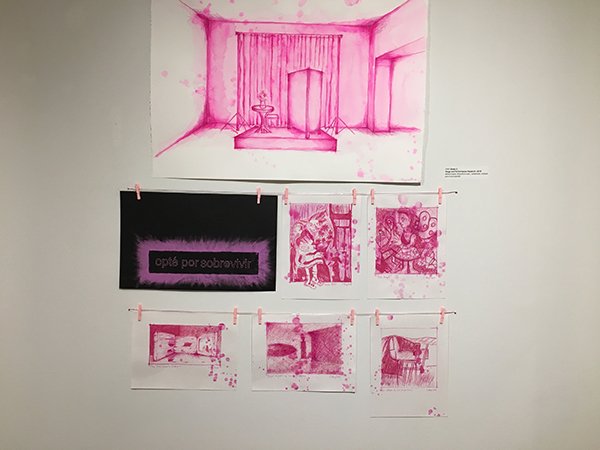 The influence of these latter works is most evident in the third and final room of Mayorga's solo installation on the floor below. Titled Square Foot Giveaway, the room contains the set-up for the children's game of Tejo which involves throwing something at a low target to win a prize. Here the artist asks the viewer to fold an origami paper house (with a detailed instruction video on how to do this with the provided pink papers) and then, after all that, to crush it in his/her hand, and throw it at the Tejo target. The prize would be one square foot of any zip code you like. Hitting the target is very difficult with the light crushed paper, and crushed origami houses litter the set-up.
Also in this room are a child's table and two chairs, and a composite drawing by Mayorga that appears to have been particularly inspired by Gerchman's Moradas and other works by this artist. The graphic quality is also reminiscent of Pelaez.
This is not Mayorga's first exhibition at the OAS/AMA, but it is her first solo. Combining drawings, constructions, interactive games, audio and video, it is a full immersion experience redolent with irony and social criticism. The term "ephemeral zip codes" may also point to the ephemeral lives of migrants. Thus, it points to the immigration crisis that we are experiencing at our southern border—a humanitarian crisis that is the result of government policies and prejudices against both economic migrants and families of asylum seekers, especially from the northern triangle of Central America: Guatemala, Honduras and El Salvador, where gangs and corruption have made the lives of the poor increasingly terror filled and impossible. "Pink washing" the situation there won't help. If only a part of the billions proposed to build a wall to keep them out were used to improve living conditions there, the crisis would be over.
Carolina Mayorga, PINK Ranchos and Other Ephemeral Zip Codes. February 14 – May 19, 2019. Organization of American States/ Secretariat for Hemispheric Affairs
AMA | Art Museum of the Americas, 201 18th Street NW, Washington DC 20006 .
See the museum website for further public programing and performances in connection with this exhibit on their website HERE.
---
This article was funded in part by a grant from the Capitol Hill Community Foundation.  Visit their website at www.capitolhillcommunityfoundation.com