Coinciding with its centennial anniversary, the Phillips Collection is hosting a retrospective of the work of Alma W. Thomas, extensively contextualized with archival materials and objects.  Although considered a Washington DC artist, she was born in Columbus, Georgia in the fall of 1891.  Escaping violent racial unrest, in 1907 her family moved to Washington DC, acquiring a house in the Logan Circle neighborhood on 15th St. NW where Alma lived and worked for the rest of her life.  These dates are important to consider, because although recognition of the importance of her art would come decades later, Thomas was born into an America where women were denied the right to vote and African-Americans faced multiple barriers to civil rights and opportunity. She came of age in a world before WWI and the many societal and cultural changes that came with it.
When she and her family moved to Washington DC, they arrived in a segregated city that would be unrecognizable today.  It is similarly important to consider the fact that when she graduated from Howard University in 1924, the first graduate of its newly established Art Department, she was already 33 years old.  Fellow African-American artist Faith Ringgold, who was recently honored with a retrospective at the Glenstone Museum in Potomac, was nearly forty years her junior.  Ringgold and other Black artists who were politically active in the 1960s, and whose art reflected that activism, considered Thomas as representing an older, more conservative generation. Other writers relegated her to the "main-stream" rather than the "black-stream" of political consciousness of the time.  The question of "apolitical art in a political world" has been sensitively considered by art historian Jonathan Binstock with regard to the reception of Alma Thomas in the late 1960s and especially after her groundbreaking solo exhibit at the Whitney Museum in 1972.  While White critics were lauding her as a newly discovered, albeit 81 year old artist, she was criticized by Black artists and critics for not being more overtly political.[1]  Although much younger, Sam Gilliam faced similar criticism.
While these issues are not perhaps evident to the average viewer of the Phillips exhibition, what is evident is that these are questions that still have not been resolved in our own racially divided America.  And, of course, they matter.  Can we look at this work without the lens of a new set of political demands?  If we can, we can come to appreciate the strength and the self-directed will of this artist as it is expressed in this expertly curated exhibit.  Its title, Everything is Beautiful, was adapted from that of a popular song released by Ray Stevens in 1970, with the added subtitle (In its Own Way), and was much loved by Thomas.  At the height of the Vietnam War, its lyrics reflect the peace, love and harmony among people that was the "flower power" ideal of the time—however, in a distinctly Christian context:
"Jesus loves the little children
All the children of the world
Red and yellow, black and white
They are precious in his sight… Everything is beautiful in its own way…And everybody's beautiful in their own way
Under God's Heaven
The world's gonna' find the way."
Alma Thomas certainly believed these words.  She was an active member of St. Luke's Episcopal Church a few blocks from her house, and saw her art as a positive, even restorative channel to express these feelings. In an interview with The Washington Post late in her life, she stated her intention:
I've never bothered painting the ugly things in life.  People struggling, having difficulty.  You meet that when you go out, and then you have to come back and see the same thing hanging on the wall.  No.  I wanted something beautiful that you could sit down and look at.  And then, the paintings change on you.[2]
This statement encapsulates Thomas' lifelong and relentless search for a way to express the beauty that she found in nature, in all its aspects, in an abstract vocabulary of form.  While her early paintings in the exhibit are largely figurative, some showing the influence of the Paris school of the 1950s, by 1960, the year she finally retired from teaching after thirty-five years at Shaw Junior High School, she began work in an abstract mode that would eventually become the characteristic style by which she is known.  However, it wasn't until 1965 that she adopted the tessellated brushstroke that she would use for the rest of her career.  It was inspired by watching the light come through the leaves of a holly tree outside her living room window which seemed to continue to reflect even as it changed.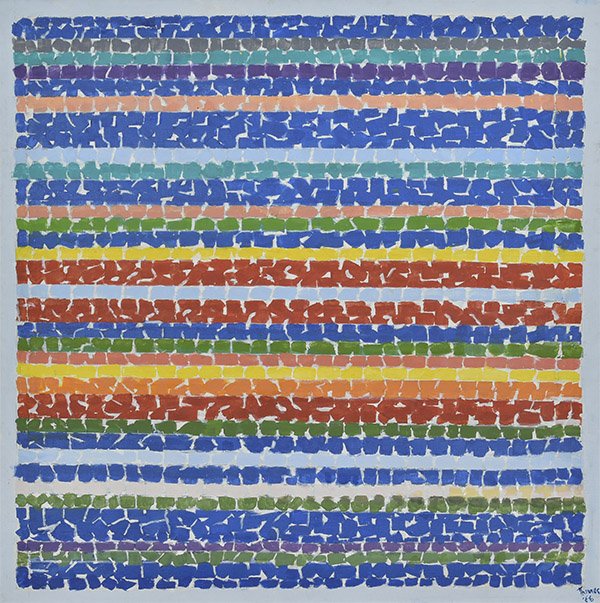 Thomas' choice to continue using an abstract vocabulary for apolitical works in this period was a very conscious one.  It was strongly defended by her friend, David Driskell, organizer of Two Centuries of Black American Art (1976-77) a show that included her work.  In the catalogue Driskell remarked:
"Only when we recognize the historical patterns of isolation and accept the responsibility of supporting those artists who express themselves in a universal language of form will black American artists be seen as major contributors to the art of this country."[3]
Unlike Ringgold, Thomas was completely fascinated by the developments in space exploration taking place in the 60s and 70s, and many of her paintings reference it.  A number of them are in this exhibition, including a tribute to Snoopy, the circumlunar orbiter sent to "snoop" around in preparation for Apollo 11's future landing of men on the Moon.  According to the artist, her painting was meant to suggest Snoopy's view of sunrise on the earth as the light begins to illuminate parts of the globe.  Of paintings like this she said: "When I paint space, I am with the astronauts."[4]
Starry Night and the Astronauts celebrates that idea with a little nod to Van Gogh and his sense of wonder looking at the night sky.  Among my favorites in this show, the blue fields shimmer with varying light, and the spacecraft in the upper right seems to be engulfed by it.  Thomas was also excited about the voyages to Mars, and made a number of paintings referencing the red planet.  In every case she used her technique to conjure a sense not only of the red color, but of the grey dust and the dry roughness of the Martian surface.
The exhibition continues with late paintings, showing that, as late as 1976, at 85, Thomas was still exploring new ways to use her broken brush technique that would evoke movement, and was beginning to experiment with new expanded compositions.   In many of these later works, the artist seems to have been trying to fuse her love of music and dance with that of nature, seeing movement in nature as an expression of musical rhythms.  Two 1976 examples of this are Babbling Brook and Whistling Poplar Trees Symphony and the monumental Red Azaleas Singing and Dancing Rock and Roll Music.
In the former we see the brushstrokes used like the tesserae of a mosaic, fitted into one another in a dense pattern on the left and pushing toward the right where it opens up to the white background.  Highly organized, as are all Thomas' works, there is an underlying diamond grid holding the pieces together, accented with the comma-like forms that animate the canvas. Like a few others hanging in this last room of the Phillips exhibit, Thomas is using a nearly monochrome palette—blue and darker blues—to connote the "symphony" of the water of the "babbling" brook and the whistling poplar trees swaying in the wind.
The exhibition ends with the three paneled Red Azaleas, a work of unprecedented size and ambition with many of the stylistic characteristics of Babbling Brook, but on a scale reminiscent of contemporary works of Jasper Johns.  Thomas liked all kinds of music, and always had her records or the radio playing as she worked in her kitchen studio.  Again, here we have that merging of her perception of nature—red azalea bushes blooming in the spring–and dance moves to rock and roll music.  The tessellated strokes migrate from left to right again, almost seeming to explode in the right hand panel, like taking a big breath after dancing to one of those songs.  A fitting way to conclude this survey of Thomas' extraordinary life and legacy.
Alma W. Thomas: Everything is Beautiful, The Phillips Collection, October 30, 2021 – January 23, 2022.  1600 21st St NW, Washington DC 20009.  Timed tickets are required for general entry, members walk in.  Masks required.  Reservations include the concurrent exhibit of paintings by David C. Driskell.  For more information, see: https://www.phillipscollection.org/visit
---
[1] Cf. Jonathan Binstock, "Apolitical Art in a Political World: Alma Thomas in the Late 1960s and Early 1970s," in Alma Thomas: A Retrospective of the Paintings, San Francisco, 1998, pp. 54-70, 65 and the review of that catalogue essay by Pamela H. Simpson in The Woman's Art Journal, Spring – Summer, 2000, Vol. 21, No. 1 (Spring – Summer, 2000), pp. 55-56.
[2] Alma W. Thomas as quoted by Eleanor Munro, "The Late Springtime of Alma Thomas," Washington Post Magazine, April 15, 1979, p.24 in Seth Feman and John Frederick Walz, "'Then the Light Would Come Around': An Introduction," in Alma W. Thomas: Everything Is Beautiful, Exh. Cat., Yale University Press, 2021, pp. 24-25.
[3] David C. Driskell, Two Centuries of Black American Art (Los Angeles: Los Angeles County Museum of Art, 1976) p. 79, in Alma W. Thomas: Everything Is Beautiful, p. 18.
[4] Wall text for this painting.
---
Funded in part with a grant from: