This is the 14th edition of the Bethesda Painting Awards, the yearly competition founded by philanthropist Carol Trawick, specifically to encourage and support painters and the art of painting.  Sponsored by the Bethesda Urban Partnership, the exhibit of finalists takes place in Gallery B in downtown Bethesda.  This year it includes the work of eight artists for the prizes.  Overall, it appears that jurors Bill Schmidt, Laura Roulet and Sally Bowring were interested in a more restricted definition of painting than some jurors have in recent years.  The result gives an overall impression of hand, of painterly expression in the truest sense, with a nice combination of abstract and imagist styles.  Painting may have died a few times in the past fifty years, but at the moment it is alive and well.
The winner of this year's top prize ($10k) was Carolyn Case.  Case was second place winner in last year's competition, although the work she exhibited here was definitely evolved from the paintings she showed in 2017.  Unfortunately, however, she has not changed her artist's statement which, as I commented then in a review in Culture Spot, rather inscrutably describes the inspiration for her layered paintings in "homemade tattoos…born out of necessity, by someone desperate to express themselves."  The overworked quality of the paintings she showed last year has given way to a much lighter touch, with more evidence of gestural brushstrokes and a dominance of a light and even airy palette in contrast to the thick excavated layers of 2017's Homemade Tattoo. In Water Light oil paint is used like watercolor.   There is also, at least in the work in this exhibit, a change of scale and weight from the heavy wood panel of last year, to much smaller, thinner panels and one work on aluminum. Visually appealing, these paintings also contain passages of texture along with bigger gestural strokes as in Underwater. Here, the use of dotting–something that Case was doing before while allegedly inspired by tattoos and embroidery—now creates the impression of woven fabric under a painted over layer.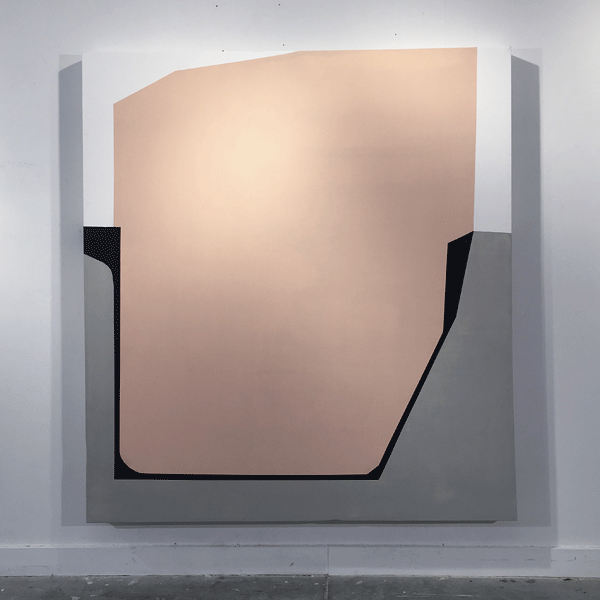 Besides Case, there are four other abstract artists in the group.  Of them, Young Artist winner Emma Childs is probably the strongest.  A recent graduate of the Maryland Institute College of Art (MICA) in Baltimore, in her short talk at the awards evening, she expressed her interest in the emotional character of color, as well as in architecture.  Both these interests are evident in her work with its defined boxy forms that resemble windows in some paintings, as well as a striking sensibility with regard to color, and attention to the edges where colors meet.   In Contain #4 and especially in Safety Net, the use of pale pinks and light, almost blue, grays project a calm perfection.
Somewhat similar in the use of window-like forms, although with generally stronger color combinations, is the work of Caleb Kortokrax, winner of the third place prize. Painting in oil on linen, on a fairly small scale, a few of these paintings, Passage 2 in particular, called to mind the dark window embrasures of 17th century Spanish still life painter Sanchez Cotán—without the still life elements but with the shadow that implies a hidden space within and behind the picture plane.
The two remaining abstract painters, Sarah Boyts Yoder and Leigh Anne Chambers, both seem inspired by abstract expressionist practice.  Both produce large gestural compositions, the former with bold strokes of acrylic, watercolor and ink on canvas, while the latter uses enamel and spray paint on pieces of discarded vinyl flooring.  Chambers' paintings include floral motifs, a bit reminiscent of Katherine Tzu-Lan Mann's inclusion of detailed flowers in her abstractions, although her mediums are quite different.  As she writes in her statement, her interest is in "how a society determines what is tasteful, while engaging domestic materials to challenge traditional notions of art."  While I'm not sure how these paintings can be seen as a challenge to tradition, they are engaging and formally interesting.
Second place was given to Vietnamese-American artist Khanh Le.  Using wood panels as a support, Le layers them with fragments of photographs from old family albums, recent photos, and cut from magazines, to form figurative collages.  He also makes liberal use of acrylic "gems" and other glittering "embellishments" which, he said in his talk, were inspired by the scrapbooks of neighbors in the Midwest town where his family settled as refugees from Vietnam.  I found these works gimmicky and vapid.  Although the artist intends that they project lofty ideas about race, gender and the plight of refugees in American society, they fail to communicate anything profound or sincere.   Further, apart from some passages of gold and silver paint, these hardly qualify as paintings—a real departure from the rest of the work in the exhibition.
On the other hand, the work of Stephen Towns, who was also among last year's finalists, succeeds where Le's does not.  Towns, an African American, grew up in Charleston, South Carolina, and found visual inspiration in older art, as well as in African American quilts and textiles.  His work is rich in content and reference, and provokes a deep emotional response.  Although Towns did not win a prize in this competition, recognition of the sincerity of expression that characterizes his work has been rewarded elsewhere, and he is definitely an emerging talent who has recently been featured with Amy Sherald.[1]  Concurrent with the Trawick exhibit, and extending through the summer, a cycle of Towns' handmade quilts is on view at the Baltimore Museum of Art.  These depict, with figures and symbols, the female side of the Nat Turner story that the artist has treated in previous paintings.  Quoting his statement, Towns speaks of his aim with these works:
"The subjects in my works are not only glimpses of the sitters; they are also a reflection of myself, and mirror my struggle to attain a sense of self-knowledge, self-worth and spirituality.  My practice provides an avenue for me to process all that I have learned about the violence of American history, and imparted a framework on how to navigate and articulate the current anger and frustration that exists throughout the world today.  I want to create beauty from the hardships in life."
And he does this like a storyteller, more interested in the story than in the sound of his own voice.
To conclude, I would like to mention the work of the Kim Abraham.  I found this work compelling and formally striking.  With a long career in landscape painting already behind him, Abraham has more recently been focusing on images inspired from the night sky and deep space, but also, as he indicates in his statement, on the parallels in the microscopic world within a drop of water.  The landscape and constellations are perhaps expressed most clearly in his Founders: a silhouetted scene of trees with a starry sky over it.  But in Life Cycle, a much larger work, it would be hard to say whether we're looking at gas clouds and meteors in deep space or at the myriad life forms in that drop of water.
[1] The two spoke together at the Church of the Redeemer in Baltimore in an event organized by Christopher Bedford, Director of the Baltimore Museum of Art, on May 30, 2018.
---
Bethesda Painting Awards Annual Exhibition, June 6 – 30. Gallery B, 7700 Wisconsin Ave., Bethesda, MD 20814, 301-215-7990.  Hours: Wednesday-Saturday 12-6 PM.