Gallery B in downtown Bethesda is again the host for the finalists of the annual Bethesda Painting Awards competition[1]. Perhaps most intriguing about this year's exhibition is the pronounced showing of painting, in the traditional sense, both figurative and abstract.  The three jurors are all themselves painters, two of them figurative, which may account for this.  In any case, it's been some time since I can remember such a strong feeling of hand in the works represented, that is, of paint on surface, made into recognizable or abstract imagery.
Among the eight artists represented, only two are abstractionists, and both of them won prizes. The top prize, which, to remind readers, is a $10,000 award, was taken by Mary Anne Arntzen, a Baltimore-based painter whose large canvas Dead Reckoning (2017) stood out for its striking formal vocabulary.  A first glance will suggest collage of actual objects on the surface, pushing and pulling against each other for notice.  This is, according to the artist, exactly how she wants her painted forms to operate; "behaving as physical objects; catching light, casting shadows and weaving through surfaces creating entryways and barriers."  The surface is thickly layered, inviting inspection and reflecting a slow process of "building up, wiping off and repainting areas."[2]  The bright colors used in this painting have a pinwheel effect which is perhaps deliberate, giving it a playful, even girlish aspect, especially next to the much more ominous feeling of the paintings by third-place winner, Nicole Santiago.
Santiago's paintings are figurative, and they are a strange combination of domestic narrative and surreal situations, insinuating more than they actually represent.  The artist has indicated in her statement that they are "semi-autobiographical," coming "from an intuitive place where linear thought and logical processing are limited, and images and sensation are abundant."  Featuring what appear to be Latina children and adults in cramped and over-furnished interiors, they exhibit strong painterly gesture over evident underdrawing.  These are paintings that take time, with many changes to the composition as the work develops.   Shifting Celebrations shows a young girl in the foreground, plastic fork in hand, contemplating a large slice of birthday layer cake served to her alone.  Another child stands on a chair facing away from her, while a woman, naked to the waist, sits in an armchair turned away from the children, her troubled face under the light of a tilted lamp.  The image in this work, as well as in Second Time Around, the other painting by Santiago in this show, reminded me of the work of Salvadoran artist César Menèndez who has also synthesized realistic figuration with the surreal in dark, cramped and often ominous circumstances.  Why, the viewer might ask, is the woman half-naked?  And why is this child eating birthday cake by herself?  Santiago's paintings often include references to parties and cakes.  Some of her other works feature cakes on their own, reminiscent of the paintings of Wayne Thiebaud both in subject and in handling—the thickness of the paint evoking the creamy icing with which these confections are covered.  All this, and more, made me find her work far more compelling, both in form and content, than Arntzen's.
Another Latina artist in this group, Gina Gwen Palacios, deserves mention, even though she did not win any prize.  Having grown up in South Texas with Mexican heritage, Palacios' imagery reflects her desire to represent that culture, with all of its trials, but also its particular beauty.  Among the most compelling images in the whole exhibit is her Look Right, a large acrylic and flashe painting on paper.  Close to the picture plane, and occupying most of the composition, is the back of a woman's head and shoulders, her black hair in braids, looking toward the right.   The top of her dress, just below the horizon line, almost looks like a waterfall, while in the distance are a few scattered trees under a heavy gray sky.  The work has a feeling of anticipation, and also of alarm, as just before a storm.  The sense of the barren, open landscape at the US southern border, and all the trouble that we are seeing there right now, is captured in this image.
Second prize was taken by W.C. Richardson, an established painter in the area and Chair of the Art Department at the University of Maryland-College Park.  Richardson has been occupied with abstract patterns for many years, and the selection of his paintings in this exhibit features his most recent exploration of this interest.  While these works may give the impression, especially in reproduction, of minimalist flatness and hard edge form, in reality they are neither.  Richardson paints with oil, adding alkyd paint (a synthetic-based oil paint with a high gloss) for shine.  Moreover, although the forms may look ruled and taped from a distance, they are actually made by tracing small wooden templates onto the canvas.  His technique is, in this sense, fundamentally painterly, and a close inspection of his surfaces shows this.  In one work, what looks like carefully ruled lines inside of a dark form turn out to have actually been achieved by layering square forms on top of each other.  While working with geometric abstraction and underlying structure, Richardson's aim is to maintain emotional expression, something like the way a classical composer like Mozart worked within a structure but achieved enormous feeling in his work.  A painting like Inside the Inside (Bell Ringer) and others showing a similar palette of highly saturated reds and yellows contrasted with black, have an optical effect that commands viewer attention.  However, distinctly reminiscent of the work and aims of an abstract expressionist like Barnett Newman, the emotional content is harder to define, and lies primarily in the painting technique itself.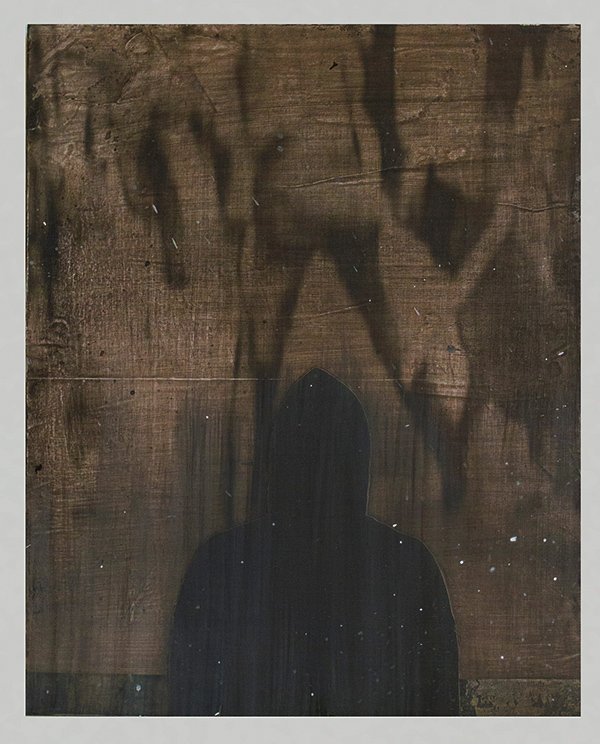 In years when an artist under thirty is among the finalists, the competition may award a fourth Young Artist Award of $1,000.  The winner of this award this year was McKinley Wallace III of Baltimore, with a group of dark, politically themed subjects.  Working with various media on wood panel, his paintings have a somber and restrained feeling, a few of them little more than large rectangles of blue and black surrounding photo screened images of racist prejudice and police brutality.  While I found these predictable and uninspired, I much preferred the panels in which the image is blurred and scratched over, and where the hand is more evident.
Finally, a word about the paintings of Lillian Bayley Hoover, the 2012 top prize winner of this competition, whose work has much evolved since.  Hoover's earlier paintings were intriguing in the way that she focused on small architectural details, leaving out the information that the viewer would need to locate the subject.  The very opposite of a painter like Santiago, whose brush pulls across the weave of her canvas leaving both the trace of the hand and the texture of the paint much in evidence, Hoover works on smooth dibond.  The untitled landscape paintings in this exhibit almost look like collages, the result of a new tearing technique, highly controlled with the use of tapes and glazes, but leaving a raised edge on many of the flatly painted forms.  There is a classical feeling to these compositions in which pictorial unity takes precedence over space, drawing over color.   Although reductive in its restraint of form and color, there are occasional departures from the completely minimal—a small painting with windblown yellow marsh flowers against a grey sky, or a textured mountain range broken at one point by a rectangle.  Hoover is concerned with the environment, and this painting makes a comment on the destruction of the natural world in a quiet, but insistent, voice.
The Bethesda Painting Awards, Gallery B, 7700 Wisconsin Ave, Suite E, Bethesda, MD, June 5-29, 2019.  Gallery hours: Wednesday – Saturday, 12-6 pm.  For more information, please visit www.bethesda.org or call 301-215-6660.
---
[1] The competition is exclusively open to painters in Maryland, Virginia and Washington DC.
[2]  Artist's statement.
Thumbnail image: Nicole Santiago, Second Time Around, oil on canvas, 2018.  Photo courtesy of the Bethesda Painting Awards.
---