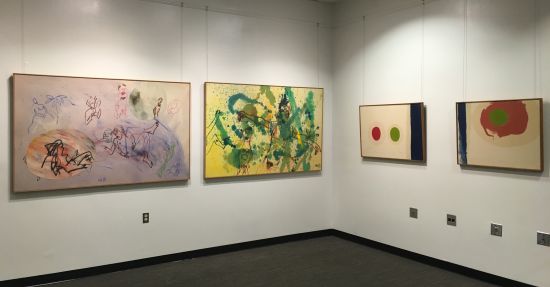 The five artists participating in Color Chords: Vibrations of the Washington Color School are united in their admiration for the properties of color, even as their approaches to applying hues to canvas radically differ.  Curator and participant Barbara Januszkiewicz has assembled these wide-ranging artists to investigate how the Washington Color School, as an art movement, continues to influence artists fifty years later.  While a direct linkage in at least one case seems tenuous, the panoply of colored swaths and shapes across the gallery suggest that ideas born in the 20th century continue to resonate into the 21st.
For viewers perhaps unfamiliar with the Washington Color School, Januszkiewicz has thoughtfully provided a vitrine displaying a variety of original source material on the gallery's second level.  The display case features critical writings from the time period, including a rather prescient essay from Clement Greenberg titled Post Painterly Abstraction in the summer 1964 edition of Art International that contextualizes the way in which each new art "ism" builds upon that which it follows.  Also included are examples of work by some of the School's seminal artists, including Gene Davis, Kenneth Noland, Morris Louis and Howard Mehring.  While these artists' finished works differed in their attention to shape and line (witness the contrast between Louis' meandering lines and Noland's more architectural forms), they share a deep affinity for the primacy of color and its ability to connote emotion without extraneous narrative cues.  The works of the current artists on display here—Barbara Januszkiewicz, Bill Hill, Matthew Grimes, Andrew Hudson and Jeremy Flick—echo that affinity, even as they (in some cases) traverse differing artistic terrain.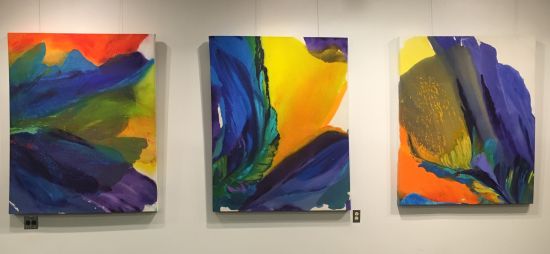 At first pass, two of Hudson's works feel almost derivative. That is until one notices they date back to 1964!  Indeed Hudson was an integral part of the movement, both as an artist and an influential art critic at the time. Januszkiewicz notes in her exhibition essay that Hudson reviewed the Washington Color Painters exhibition at the Washington Gallery of Modern Art in 1965.  Homage to Jack Bush and Turtle Green (both dated 1964) capture the canvas-soaked color forms that define the movement and in that regard serve as a touchstone from which to view the other artists. Tellingly, his other two works in the exhibition incorporate color washes that touch on the ethereality of the Color School, but here serve as mere backdrops to improvised figures that dominate the picture plane.  Indeed Hudson, like the other artists present, has moved on to using the Color School as a point of departure for new inspirations rather than a static idea.
Januszkiewicz dominates one side of the gallery with large canvases that are most similar to the ethos of the Washington Color School.  This perhaps is no surprise given her connection to and mentorship from Paul Reed, the School's last surviving member who passed away in 2015.  A nearby vitrine features a printed interview with Januszkiewicz that explores her relationship with Reed, noting how he encouraged her transition from watercolors to acrylics; all works in this show are comprised of the latter.  Her affinity for the Color School lies not just in technique but also in the belief that color takes on a life of its own.  Works such as No Matter How Far and I Just Want Someplace Where I Can Lay My Head (both 2016) embrace a flowing eroticism that suggests exotic bouquets dancing across the canvas.  While some Color School artists focused on spare shapes, Januszkiewicz is more in line with Morris Lewis' Floral Veils series or the more recent three dimensional works of Sam Gilliam.  This is not to say her works merely imitate; the vibrancy—the lively movement of color across canvas—is entirely of her own design.
While Bill Hill's works conjure less eroticism than Januszkiewicz, that does not mean that they are devoid of emotion.  The artist's canvases forego panache for a more ethereal, almost romantic quality.  In the Light (2013-14) and Signs and Wonders VIII (2008-11), in particular, dwell into Impressionist territory with their subtle colors that slowly shift in tone.  The works display no discernible scene, horizon line or any other magnet for the viewer's gaze to fix upon.  Rather, the viewer is gently forced to consider color—to watch the ebb and flow of shade across the canvas.  There is a delicacy at play that is perhaps at odds with the approaches taken by some Color School artists, but again provides another example of the way in which current artists may use that movement as a point of departure for their own ideas.
Where Hill, Januszkiewicz and (to a slightly lesser extent) Hudson build upon the emotive qualities of color, Andrew Hudson and Jeremy Flick begin to branch out from the Color School ethos, providing new interpretations within a more contemporary context.  This is especially true of Flick, whose cool, austere grids visually contradict the first three artists' swirling color palettes. At first glance, Flick's grids seem more tightly aligned with Minimalism and its emphasis on spare forms; however, in this instance those spare forms are nothing if not pure collections of color.  Indeed, stripping all figuration from the picture plane forces the viewer to confront those colors and the way they interact with one another.  209869053 (Head On) (2016) presents gentle blues juxtaposed with intense scarlets and ochers that distort any notions of underlying imagery, lending the work an almost digital quality (underscored by a title derived from the electronic file name in the artist's digital archive).  That notion of pixelation is continued in the six-panel Uptight (Everything's Alright) (2015) which in many ways emphasizes its videographic qualities to a greater degree than more traditional brush strokes on canvas.
Matthew Grimes is somewhat of an outlier in the exhibition, drifting further from the Color School's tenants to a degree that makes a direct linkage difficult to assess.  Grimes' works differ from the others not only by his inclusion of multiple materials and layers on the works' surfaces but also in their decidedly exuberant, contemporary attitude.  On the surface, works such as Ready, Keep Going, Let's Go and Tengo sed (I am Thirsty), both 2016, appear to have more in common with modern graffiti artists with their inclusion of spray paints and street markers.  That said, it is intriguing to study his work in concert with the other artists around him, as similarities rise to the fore.  Without a recognizable narrative, our eyes once again focus on the colors—both the shapes they create and the ways they zip across the canvas.  As color and line begin to form impressions on the mind's eye, it becomes apparent that he wields his markers and spray cans in ways similar to Januszkiewicz's and Hill's finer brush strokes.  Was he focused on the Washington Color School while working in his studio?  My guess is probably not.  That said, in this context his mark-making owes a small debt to the Color School, which empowered color to prominently carry the narrative.
Januszkiewicz, in her essay accompanying the exhibition speaks to how the Color School "vibrates" through these works, where "each pigmented tone takes a moment to scat across the canvas."  Yet with this disparate grouping that spans 50 years she is also creating a historically-themed dialogue, and so it is perhaps more germane here to reflect on the way the Color School reverberates across generations of artists (as well as the audience).  The Washington Color School captured a moment in time—a moment of intense creativity by a group of artists working in close contact.  Yet the School does not represent a static moment, and just as Abstract Impressionism led in part to this line of creativity, so now does the Color School continue to influence the development of more modern movements.  In that regard Januszkiewicz admirably captures how the Washington Color School's narrative thread, detailing a facet of our changing relationship to color, continues to evolve for artists in the 21st century.
---
Color Chords: Vibrations of the Washington Color School continues through July 10, 2016 at Northern Virginia Community College's Verizon Gallery located at 8333 Little River Turnpike in Annandale, VA.
You may reach the gallery by phone at 703 323-3000. For more information, visit the exhibition website HERE.
Extended evening hours from 7-10 p.m. every Wednesday have been added through July 10.