Washington artist Freya Grand is known for her large scale landscape paintings.  At first glance they may appear to be simply naturalistic.  But the key to understanding her work is to realize that her paintings are not so much descriptive of the extraordinary places she has intrepidly visited to make them, but are instead about the experience of being there.  In that, to a certain extent, they are abstracted from the visual record so that they convey what it was like when she was viewing any one of the isolated places she has represented—that is, the experience of seeing and feeling in the presence of nature.  Her work is highly emotional, and it is that aspect of it that may have inspired guest curator Hilary Pierce Hatfield to think of pairing certain of her works with modernist abstract paintings by Latin American artists in the collection of the Art Museum of the Americas, a cultural institution of the Organization of American States in Washington DC.  The selection was made in collaboration with AMA curator Adriana Ospina.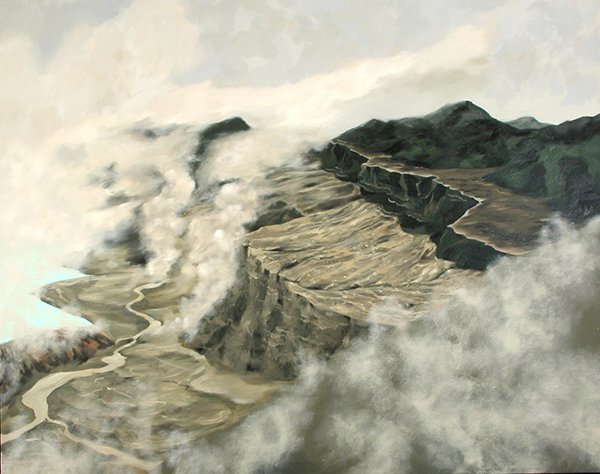 The connection between landscape painting that aims to capture the sublime in nature and abstract art was perhaps first noted by Robert Rosenblum in a now famous article published in ARTnews in February 1961.  Titled "The Abstract Sublime", the art historian laid out the similarity of visual language and viewers' experience of it in the work of Romantic landscape artists and contemporary painters like Clyfford Still and Barnett Newman.  Part of the analogy was indeed the scale of the works by these artists, but it had most to do with an attempt to express something deeply felt, even spiritual that comes through both.  Had Rosenblum the opportunity to see Grand's paintings, I believe he would have seen their connection to this same tradition, especially in American painting.  Rosenblum cited a passage from Immanuel Kant's "Critique of Judgement" (1790) as the criterion for the sublime that certainly applies to Grand's work, as well as to some of the Latin American works in this exhibition.  It is the representation of "boundlessness":
"the Beautiful in nature is connected with the form of the object, which consists in having boundaries, the Sublime is to be found in a formless object, so far as in it, or by occasion of it, boundlessness is represented" (I, Book 2, §23). [1]
One of the most striking aspects of Grand's paintings, and this can be seen in the selection in this exhibit, is that feeling that whatever it is—deserts, volcanoes, mountains, sea, clouds—keep going on beyond the edges of the painting.  This is often in part the result of the unusual viewpoints from which she gives us these spaces completely absent of human presence or intervention.  The artist has hiked up enormous peaks and even gone into helicopters in order to see these expanses from what might be termed a divine perspective.
One of the most wonderful aspects of the exhibit is the inclusion of a number of Grand's sketchbooks, and a sampling of drawings made on site including her written notes about the time and place she was experiencing.  A few phrases from these journals are quoted in the beautifully designed catalog accompanying the show.  For example:
"The shapes are everything that I felt about the primal power of those mountains, the feeling that the force of creation was still in the air" (2005)
"The primordial wind and the astonishment of what I see—all of this is what I will paint."[2] (2014)
The AMA installation does seem like a conversation between Freya's work and her method with the works of a group of six artists from Central and South America.  For the curators the basis of the pairings was often from similarities of shape and color.  Yet, it is more complicated than that.
As Director of the Museum, Pablo Zúñiga, noted in his introduction, many of Grand's paintings were "made in response to the very same regions of our hemisphere that produced these fine abstractionists and together they shine light on the power, beauty and diversity of this common ground."[3]  There is something undeniable in this appreciation.  The strong identity of Latin American artists in general with the specific environments of each of the various regions it comprises is incontestable. It inevitably left its stamp on their art and, one could say, even in their approach to abstraction.  The argument can, however, be expanded to the entire hemisphere in that it was the landscape of the New World in general that was always its pride.  It is no accident that landscape painting, especially representing the wilderness and the mountain ranges, is identifiable as the first quintessentially American art.  Artists like Thomas Cole and Frederic Church were acutely aware of this, and Cole actually said it in so many words.[4]  While Europe had its castles and ruins, the Americas had their unparalled landscapes.  Church traveled to see the volcanoes of Ecuador and tried to capture their sublimity in his work.  If there is a continuity of this tendency into the 21st century, then Freya Grand's paintings, with their essential abstraction and simplification of details in favor of conveying the sublime experience is certainly among its best representatives.
When Hatfield and Ospina began to search the newly created digital archive of the nearly one thousand works in the AMA permanent collection, they did it separately, and found that they were making many of the same pairings.  The artists they selected include Maria Luisa Pacheco (Bolivia), Angel Hurtado (Venezuela), Anibal Villacís (Ecuador), and Danilo di Prete, Tomie Ohtake and Manabu Mabe (Bazil).   On seeing the pairings with Grand's paintings, one has to spend some time to see into the place of dialog between the selections because it is deeper than merely comparable colors or particular shapes.  A good example is the comparison between two of Japanese-Brazilian artist Tomie Ohtake's untitled color engraving/etchings (1994) and Grand's Macal Rocks (Belize) (2013).
Ohtake was a leader in the Informal Abstraction movement in Brazil and her work has a lyrical quality that makes it comparable to Grand's.  It's not just the rather interesting color choices that are evident, but also the application of the color, especially in the watery foreground of Grand's painting with Ohtake's images, notwithstanding the difference in medium.
Another striking comparison is between Manabu Mabe's Gray (c. 1962) and Grand's Pu'u O'o (2016).  These paintings are a similar scale, and the overall tonalities are very similar.  What is especially compelling is the way that the dark form in Mabe's work includes that fiery detail and seems to open up into a deep abyss.  Grand's painting is, of course, an active volcano seen from above with a hot orange fire in its black opening beneath clouds of white smoke.   This is exactly the kind of work, both Mabe's and Grand's, that reaches that criterion of "boundlessness" that brings the viewer to a place where there is beauty, but also awe and fear.
The catalogue includes a fascinating interview of the artist by Ospina, Curator of the AMA collection (Ms. Hatfield is a guest curator on this project).  In it Ospina asks Grand if there is a particular pairing that is a favorite.  Her answer is the comparison of her painting Chimborazo (Ecuador) (2006) with Danilo di Prete's Cosmic Landscape No. 2 (1963).
Of course, the surface of neither work is evident in photographs, and the surfaces really do make a difference in seeing the pairing of these.  Grand specifically mentions how both paintings have "strong, jagged, up-thrusting shapes that penetrate a milky fog" but more in keeping with my argument she adds: "The two paintings have a similar light/dark balance. They carry a similar earthy power."   Something that can't quite be described—it must be seen.
Dialog: Landscape and Abstraction.  OAS/AMA Art Museum of the Americas, 201 18th St. NW, Washington DC 20006. Through April 26, 2020.  Open Tuesday-Sunday 10 – 5, admission free. Two special programs are scheduled in connection with the exhibit:
"Women Artists at the Art Museum of the Americas" on Sunday, March 8, 2020 (International Women's Day), 12-1:30 PM.
"Art and Our Environment: An Essential Dialog" Panel/Talk.  Thursday, April 23, 2020 (50th Anniversary of Earth Day) 12-1:30 PM.  (With Earth Day Network).
Editor's Note: this article was updated on Wed., Feb. 12 to clarify the roles of the two curators.
---
[1] https://www.artnews.com/art-news/retrospective/beyond-the-infinite-robert-rosenblum-on-sublime-contemporary-art-in-1961-3811/
[2] Freya Grand, quoted in the catalog to Dialog: Landscape and Abstraction, The OAS/AMA Art Museum of the Americas, Washington DC, 2020, pp. 8, 25.
[3] Zúñiga in Dialog, p. 5.
[4] Cf. Thomas Cole, "American Scenery". The American Monthly Magazine, January 1836, 1, pp. 1–12.