Erik Thor Sandberg's paintings present as unsettling, unusual, and perhaps emotionally unappealing. Yet, their imagery is not completely unfamiliar, either from a psychological point of view, or from the purely visual. They catch our eye with image references that seem recognizable. To the art historian these references are quickly captured. To the untrained eye, they may strike a chord as something within our visual lexicon, though perhaps not exactly identifiable. It is the artist's recalling of  16th century art historical canons–for example, in both the Flemish painter Pieter Bruegel the Elder, and Spanish painter José de Ribera—that give us ready access points into the works. Sandberg's depiction of people-as-pawns, making up a perfectly orchestrated social scene in Unceremonious Introduction mirrors Bruegel's town scenes. His dusty use of chiaroscuro in Swing recalls the elderly figures rendered by de Ribera with his heavy earth tones and discerning light.
Sandberg turns these art historical references upside down by twisting the figures and compositions into positions creating, as curator Vesela Sretenovic so accurately states in the exhibition's catalogue essay, "an array of captivating yet gruesome images of human folly, recklessness, and deception." Indeed, it is because of these very characteristics that Sandberg has referred to his style as Magic Realism, appropriating a term usually associated with Latin American literary giants such as Gabriel Garcia Marquez, and aligned with certain Latin American artists (e.g. Frida Kahlo and Remedios Varo) with whom Sandberg's approach shares a certain affinity of combining the naturalistic and surrealistic. Nevertheless, his paintings are also probably inspired by other older art styles, particularly, as mentioned above, Flemish, Spanish, as well as later 16th Century Florentine Mannerism. These stylistic precedents are of course manipulated and inverted in Sandberg's paintings. For example, in Sandberg's Unceremonious Introduction the two figures are not enjoying a lovely picnic as might be suggested by the red and white checkered blanket. Instead, the woman seems to be gesturing in a defensive manner, warding off the impending doom from a man dressed in hunter-like clothing, mid-scream. The food and plates at the picnic have toppled over, hinting to an end of all things idyllic. In the work that recalls a painting by de Ribera, Sandberg poses an elder man with his bicep flexed, his head tilted looking back behind him. What he is seeing is an absurdist scene that makes no logical sense: figures intertwined within tree branches, each acting in his or her own world and seemingly unconnected. One holds a loaf of bread with tongs while another is upside down wearing only stock  ings, and another looks off into the distance sawing down a limb of the tree. Unlike the painting by de Ribera's that depicts the elderly man looking up into a kind of heavenly light with his hands clasped in reverence, Sandberg has his elderly man looking onto a scene of nonsense, oddity and earthly vices–not forgetting to mention the large, and rather alarming axe in his grasp. Rather than prayer, there appears a threat of imminent violence.
Departing from these works featuring disjointed folly, Sandberg goes on to develop the imagery of his more recent paintings such as Finding Purchase and Misdirection. Marked still by an ever-lingering sense of the weird and uncanny, these compositions, some individual figures, some scenic works, restate and innovate their allegiance to Magic Realism through their new use of figurative introspection, object symbolism, and structural format.
In Finding Purchase, a figure sits on a child's toy found on a playground, a green dragon rocker with two handlebars. The figure, though, is not a child but instead a compilation of adult men and woman. Each adult peels away, split down the vertical centerline of their face fanning out to reveal empty voids inside each of the heads. This idea differs from Sandberg's earlier work in the show in that while still exploring a host of characters, it focalizes into one body. Unlike Sandberg's previous individual figure works like Blinded or Töt, this piece does not provide the viewer with the sense that in viewing the painting, they are getting to know intimate, odd details about one person. Instead, through the use of a many-in-one motif, the viewer is presented with larger philosophical questions such as what sits inside an individual, and is there even such a thing as a singular identity to every person. Sandberg's new work delves into the figure, yet simultaneously propels the viewer through a prism of many figures, something previously unachieved in his larger figurative works.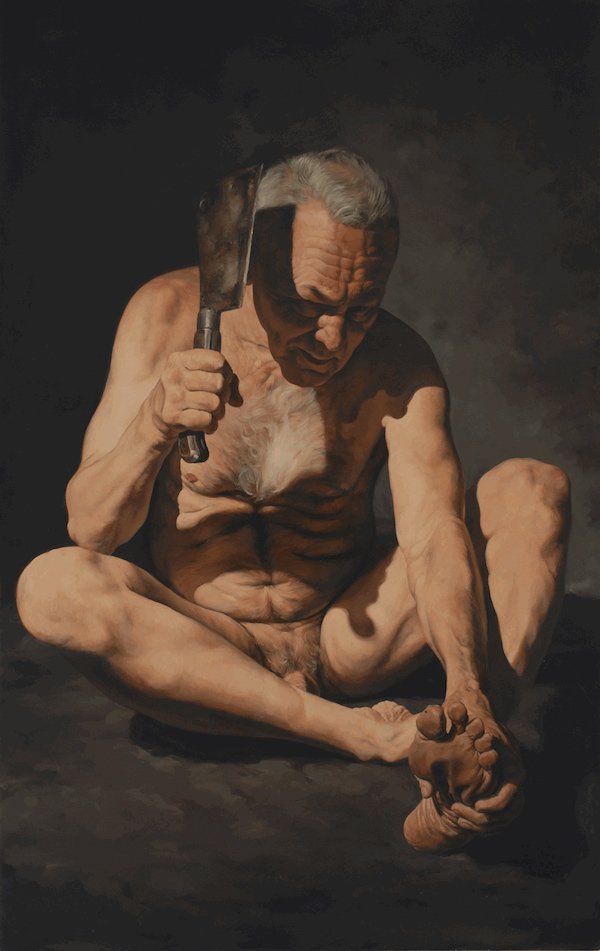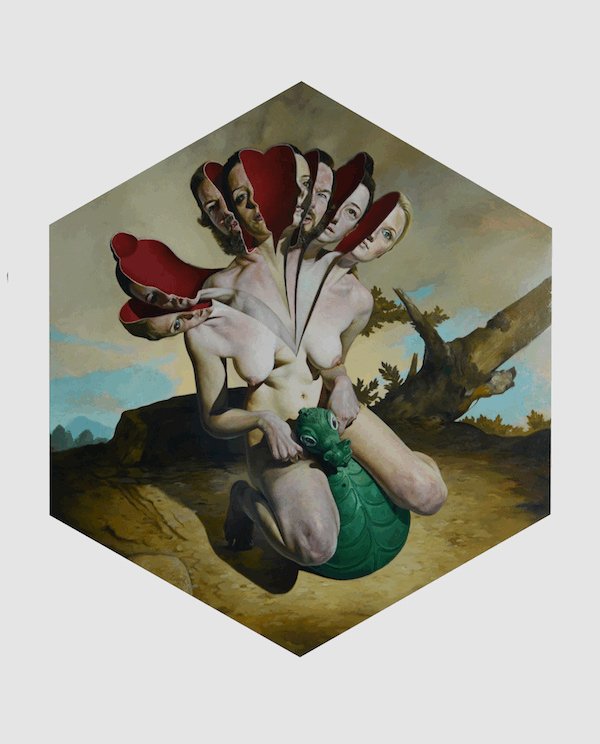 In his new paintings that are more scenic in composition as opposed to figurative, Sandberg seems to have matured his intentionality towards the objects he includes. In earlier works such as The Crate Series, figures were placed among open wooden boxes such that only certain scenes and body parts were visible to suggest many unfinished narratives. These boxes are left un-contextualized as these scenes unfold in a space akin to a void. The gestures of the figures, combined with their facial expressions and occasional odd maintenance of an object, endow them with their absurdity. In Sandberg's newer Misdirection, the figures are not placed in a void but instead a forested area. Additionally, they are not left to rely mainly on their gestures but instead depend heavily on the specific objects that surround them to define them. The objects range from the classic yellow bulldozer to baseball carnival games, to mini-golf, candy bowls, xylophones, and stuffed animal heads. The figures' expressions are principally glazed, and Misdirection relies instead on the selection of objects, and the viewer's mental associations that might cascade from them, to shape the absurdist narrative of the works.
One cannot be remiss to recognize that each of the newer pieces are painted on wooden blocks shaped by Sandberg himself to be round-edged rectangles or hexagons. These non-traditional shapes give each of the paintings a more decorative quality, perhaps meant to enhance Sandberg's iteration of Magic Realism, or perhaps meant to suggest the fact that artists before about 1500 all worked on panel. The lack of strict, ninety-degree angles adds a softness to the works that seems to appease an ornamental sensibility. Yet, this nod to ornamentation only furthers the paradox, tricking the viewer now with a manipulation of shape or frame as well as with his smooth oil technique and realistic depictions to build an expectation for approachable realism that is immediately dismantled into an eerie absurdity.
This exhibition is on view at the American University Museum Katzen Arts Center, located at 4400 Massachusetts Ave. NW, Washington DC, 20016, from January 27 – March 11, 2018. For more information, visit CONNORSMITH at www.connersmith.us.com/exhibitions/erik-thor-sandberg2.