Strength does not come from physical capacity. It comes from an indomitable will.

— Mahatma Gandhi
The Gallery at Glenstone is the only US venue scheduled for a major exhibition of five decades of work by African-American artist Faith Ringgold.  The exhibition was previously at the Serpentine Galleries in London, original organizers of the show, and at the Bildmuseet in Umeå, Sweden.  However, Glenstone has almost doubled the number of works to over 70, including a number from their permanent collection.  In this way the Glenstone exhibit provides a unique opportunity to see the trajectory of Ringgold's work as activist, artist and author seriously engaged in the struggle for African-American and women's rights over most of her long career.  The Glenstone website features an informative and deeply moving video documenting Ringgold's visit to the show with her daughter, art critic and theorist Michelle Wallace.[1]
Born in New York in 1930 the artist grew up in Harlem.  Given these simple facts, it was a signal demonstration of her fierce will to overcome the obstacles in her way, including the birth of her daughter while married to jazz pianist Robert Earl Wallace, that she graduated from City College of New York in 1955.  Although barred from majoring in visual art at City College because she was a woman, she completed her master's degree in art education in 1959.  She subsequently taught art in New York City public schools for nearly twenty years during what were the most turbulent decades of the twentieth century in the United States.  Having worked principally as a landscape painter, by 1963 she became inspired by the increasingly widespread civil rights actions of the time.  As the women's movement began to gather strength in the early 1970s, the particular experience of African-American women became Ringgold's primary focus.   Like many women artists, especially in the 1970s and 80s, she turned away from traditional painting, choosing to work on and with fabric, quilting, and creating soft sculpture.  From this period onward she is best known for her highly detailed story quilts with extended narratives handwritten directly on the fabric.  Examples of all of these aspects of her work are represented in this exhibition, clearly demonstrating their continued relevance to present and future generations.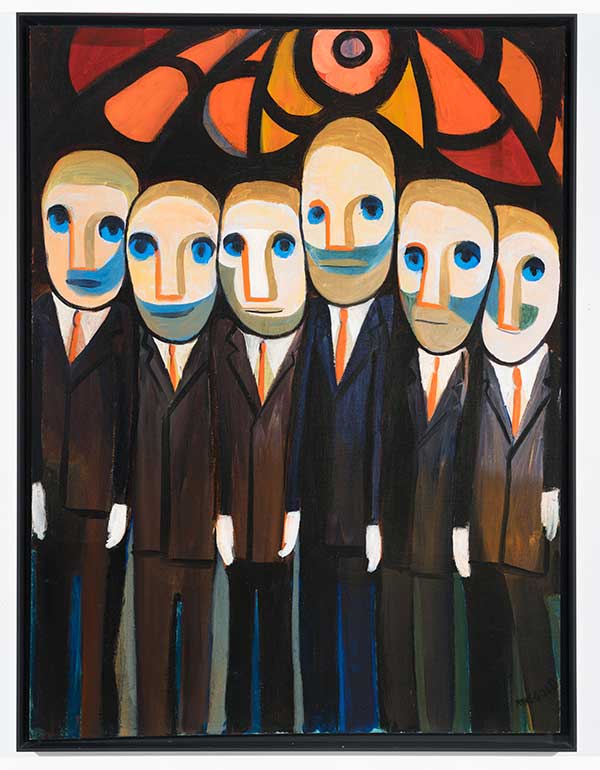 Among the earliest works in the show is They Speak No Evil.  As with a number of Ringgold's early works, the ironic title is critical to the work.  Here a group of blue-eyed, blond white men in suits stare out, their mouths in shadow, while behind them is a form that suggests the stained glass window of a church.  The artist's ambivalent attitude toward those who profess Christian values–while in church—is succinctly expressed.
As the decade proceeded, Ringgold's imagery became more stylized and more political.  Among the most compelling works in the exhibit is the large U.S. Postage Stamp Commemorating the Advent of Black Power.  Rows of faces, eyes and nose only, are overlaid with black letters spelling out "Black Power" in a diagonal from upper left to lower right.  Complementing this, the only brown faces are arranged in a diagonal from upper right to lower left. In the larger outlining letters is hidden the phrase "White Power" making clear reference to the underlying social structure of life in the United States.
Stylistically, the featuring of the upper part of the face in this work, the heavy black lines defining them became characteristic of Ringgold's stylization of figures from this point forward.  It made me think of possible sources in African art, specifically in Ethiopian traditional and even more contemporary examples that continue the traditional stylizations.  For example, compare this Ethiopian icon from about 1700:
Or, the rows of cherub faces, stylized in a similar manner on the painted ceiling of a church famous for its frescoes:
These examples of Ethiopian painting are typical of an extraordinarily stable artistic tradition, and images like it were already widely published in the twentieth century.
The events of 1968 had a significant impact on Ringgold's art which began to include increasingly strong political statements.  Perhaps the most dramatic example is from the series Black Light, begun in that year: Flag for the Moon: Die Nigger.  Painted in 1969, the title is both deeply bitter and a reference to the moon landing that had everyone's attention that July.  At Glenstone, Ringgold's statement is posted next to the painting.
"Nobody was thinking about the physical and emotional safety of Black communities during the late 1960s. Instead of investing in its citizens and their needs, at the height of the Civil Rights Movement the United States government was spending billions of dollars racing the Soviets to put a man on the moon. People were rioting in 1968. People were dying, and for what? Basic human rights. This painting reflects my anger about the message I felt Black people were receiving from their government–and too often, still receive. The title of the painting reflects that message."
As the movement for women's rights began to surge in the 1970's, Ringgold became deeply involved and responded with works of different types, including a group of posters that reflect the graphic design tendency in her compositions in which letters are altered in shape and size to force the viewer to look closer.  Among a few outstanding examples of this in the Glenstone exhibit is Woman Free Yourself, a poster with a particularly strong message made subtle because of the close saturation of the colors and the aesthetic arrangement of the letters.
Ringgold's interest in African and African-American art sources also included Kuba textiles of the Congo, various other folk textile arts, as well as quilt making among communities of women in the American South.  These sources are readily visible in her works of the 1980's and beyond.
The Glenstone exhibit includes a large number of Ringgold's story quilts, including Who's Afraid of Aunt Jemima (1983, from the Glenstone Museum collection) and two recounting the story of Ringgold's struggles with weight loss; Change #2 (1988) and Change #3 (1991).
Perhaps her best known work, Woman on a Bridge #1: Tar Beach from the Guggenheim Museum, is among the highlights of this exhibition.  It was the first of her Woman on A Bridge Series which Ringgold used as the basis of her award-winning 1991 children's book, Tar Beach, that tells the story of 8 year-old Cassie Louise Lightfoot.  The joyful summer scene shows a family playing cards on the roof of their New York apartment building (the "tar beach"), refreshments ready on a nearby table, while children lie on a mattress watching the sky.  Meanwhile Cassie flies over the George Washington bridge, her flying giving her possession of it, "like a diamond necklace".  Since she can fly, she can go "wherever she likes".  Clearly, the story is meant as a message for all children, especially girls and children of color, that no matter how humble their beginnings, they should never feel that they can't succeed—a moral that fairly describes Ringgold's own biography.
Many of the works in this exhibit feel very contemporary in theme and reference.  Among them, my favorite was probably The French Collection #5: Matisse's Model (1991) from the Baltimore Museum of Art.
This quilt represents part of another story narrative that follows the career of a young woman who goes to Paris in 1920 with hopes of becoming an artist.  She poses for Matisse, who, although a great artist, was a notorious womanizer.  The figure lies naked on a couch while Matisse's Dance, of 1909-10, clearly featuring brown skinned dancers, hangs above.  A portrait of the artist with his palette based on one in the Baltimore Museum looks at the viewer from the bottom right corner.  The whole is surrounded by printed fabrics, some tie-dyed and painted.  This is another nod to the experience of Black women.  But I think it is also a nod to Ringgold's own experience as a young artist in New York.  No New Yorker who loved art in those days failed to go to the Museum of Modern Art. When you walked into the lobby, the first thing you saw was that iconic painting by Matisse.  To use Ringgold's metaphor, "flying over it" it became yours.[2]
Faith Ringgold, Glenstone Museum (Gallery), Opened April 8, 2021.  Closing date TBD.  12100 Glen Road, Potomac, MD 20854.  Open by advanced reservation only, Thursday – Sunday, 10 AM- 5 PM.  301-983-5001, info@glenstone.org
---
[1] https://www.glenstone.org/art/exhibition/faith-ringgold/
[2] Ringgold actually shows the second version of the painting that has the dancers with a dark skin color. Matisse was obviously not painting either work in 1920.