BY ERIC HOPE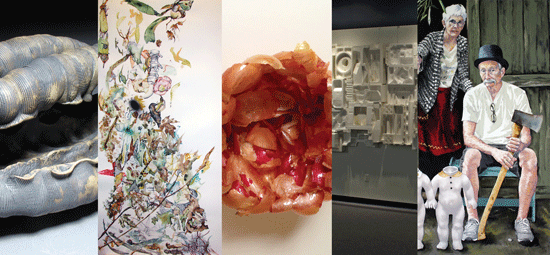 Painter, sculptor, installation artist, ceramist– the artists in Five Make Art are a disparate lot. On the surface, the works of Liz Lescault, Ellen Cornett, Pam Rogers, Claudia Vess and Gloria Chapa create cross-conversations rather than a cohesive dialogue as childhood fairytales interact with Styrofoam cityscapes and vaguely fertile sea creatures. Yet in this cacophony, subtle similarities rise to the surface– playful experimenting with forms, whiffs of humility and a willingness to explore. Stand in the gallery long enough and you begin to realize something resonates within these works.
If the surface of the works only hint at deeper meanings, then we must search further into the artists' minds to better understand this psychic awareness. In conversing with the artists, two key observations rise to the fore. First (and most obvious), none of these women are neophytes; indeed several of them have artistic practices that span decades. They've pushed through the ambiguities experienced by many emergent artists when struggling to define their aesthetic. We notice their maturity, and while we would do well not make assumptions about their stamina, it bears examining from the perspective that a long, well-lived life provides plenty of fodder for artists to mine as well as the intellect and the experience to separate the wheat from the chaff. It is further instructive to note how each artist approaches their creative impulses at this point in her life. For Cornett it is feeling, "much braver than I used to be." Lescault notes the importance of acting courageously, "pursuing art for its own sake" and allowing the sales to follow. For Chapa, age has marked a time of asserting her need to create art over the potential needs of others. Rogers and Vess dovetail each other, each seeking to maintain artistic relevance in a frenetic, globalized art world by consciously taking risks with their work. In this regard, we are privy to a unique moment in the artists' careers, namely a time when amassed technical prowess intersects with a newfound sense of personal freedom gleaned from life experiences.
This more nuanced perception of their points of view leads to the second observation. While the works are wildly dissimilar in size, shape and materials, they work in concert to concoct a certain moodiness, permeating the gallery in an ethereal fog invisible to the eye but not to the spirit. Each artist in her individual way is creating works that find beauty in introspection. While this phenomenon occurs almost literally in the work of Vess and Rogers, where viewers are cocooned within the work or witness the similar effect upon the materials, it is also presented in more metaphorical terms by the other three artists. This siren call inward suggests that each artist is filtering notions of the self – the ego if you will – through a web whose strands connect a lifetime of relationships.
"While the works are wildly dissimilar in size, shape and materials, they work in concert to concoct a certain moodiness, permeating the gallery in an ethereal fog invisible to the eye but not to the spirit."
Given this insight, it becomes easier to understand how each artist is actively engaged in defining and examining the multiplicity of relationships around them. Take for instance, Ellen Cornett's series of pastel vignettes that focus on a well-known fairytale. While the juxtaposition of animal and human forms into amusing fantasy has been a hallmark, her latest series is notable not only for its scope (a whole series of works based upon one premise) but also for the way it mines childhood fantasy for distinctly adult emotions. On the surface it seems like a child's fairytale may have little to say about adult relationships, but Cornett points out that the bulk of fairytales often tread into very dark territory. Infanticide, famine and murder are usually relegated to R-rated movies, but Cornett notes that these gruesome themes are integral to the Hansel and Gretel fairytale from which these works derive. Her candy-colored explorations portend to something ominous, pointing to the fact that interpersonal relationships (both hers and ours) can simultaneously be joyful and bittersweet.
Like Cornett, Gloria Chapa's practice mines decades' worth of life experience to shed light on interpersonal relationships. But where Cornett seems to emphasize our inner emotional transformations from adolescence into adulthood, Chapa's explorations shine a light on traditional gender roles that we fall into as adults. Her installations combine unexpected ingredients (potato chips, human hair) with classic sculptural elements into studies that exalt notions of femininity. With degrees in both mathematics and the fine arts, Chapa grew up in a large household where a greater degree of value was placed on applied science than the tasks of a domestic homemaker. While accomplished in science, Chapa has gained, as an adult, a nostalgic fondness for the profound role of the domestic arts as exemplified by her mother.   It would be easy to label her work a feminist critique, but this description misses the mark and borders on the dismissive. Rather than dwell on historical gender imbalances, hers is a search for the sublime aspects of femininity. "You should make art about what fascinates you and about what you know," she tells me. What Chapa knows is the fresh smell of baby powder, the comforting rat-a-tat-tat of a sewing machine needle and the earthy flavors of arroz con pollo.   Her wry evaluations demonstrate that gender dynamics, rather than a simple yin/yang dichotomy, are in reality a simmering stew of complex experiences bound to create something completely new if we let them.
Where some artists are drawn to mining our interpersonal landscapes, others turn to the natural, visual landscape as their initial points of departure. Liz Lescault's artistry has literally taken on a life of its own as she has consciously progressed over the past decade from sculpting functional vessels to crafting biomorphic forms that mimic lines of nature. Shown as installations on the floor or in groupings at multiple elevations, the forms are reminiscent of coral colonies teaming with life on the bottom of the sea. The comparison is apt; Lescault challenges us to engage with nature, stating that she is, "really trying to create something that has life; something that people look at and [while] they're not sure what it is, they think they've seen it before." While some works engage a sense of pregnant possibility, others are colored with a sense of loss in forms that exude decay. For where there is life there must inevitably be death, and in this respect, Lescault gently encourages us to slowly savor boundless beauty of nature, and the people we hold dear, and accept with grace the inevitable declines that will follow.
Claudia Vess takes a slightly different tack, highlighting the fact that the concept of a "natural landscape" itself is open to a multiplicity of meanings. For decades Vess has encouraged viewers to, "see ourselves vis-à-vis the world we create around us," with sculptural objects that make liberal use of found resources such as hubcaps and Styrofoam. Her two-dimensional work underscores this phenomenon with wry examinations of a newfound world as visualized by consumer items we often covet. For Five Make Art, Vess presents the viewer with a room-sized, 36 feet long installation meant to immerse the viewer into an urban environment replete with the white noise of beltway traffic. The experience invokes the question, what type of environment do we want to create for ourselves? For Vess, the man-made, urban environment is our "new" natural environment. While her work posits timely questions about our attitudes towards urbanization and climate change, Vess prefers to dwell less on public debates in favor of gently sparking a newfound awareness of our day to day surroundings.
The botanical-based works of Pam Rogers bridge the natural and interpersonal realms, creating a unique summation of her fellow artists' artistic investigations. Visually, the works are bound to realm of nature. Her two-dimensional works are created with soil and plant pigments that in some cases are literally ground into her hand-made paper in methods gleaned from both art history and anthropology; sculptural pieces make liberal use of found botanicals. Dig deeper and you will discover that Rogers' works act as visual recollections for life events. "For impactful moments in life I am aware of the environment that they are placed in," she notes. Using local soils and botanical materials binds memories of place, time and people onto paper or into a sculpture, creating, "metaphors for the people, events and places in my life." Like Lescault's work before her, there sometimes can be seen an inevitable sense of decay. Where Lescault extols us to enjoy nature while we can, Rogers encourages us to bring a similar sense of levity to our personal relationships.
If shown individually, the artists' examinations of relationships they hold dear might read solely as interesting novelties. Grouped together however, they have the potential to create a rich dialogue. These women are taking a chance; on the surface, these are visually dissimilar works requiring the viewer to slow down time in a deliberative, contemplative manner. Take that time to pause and reflect, allowing your own relationship with the works to unfold.
Five Make Art is on view at Harmony Hall Regional Center through December 12. The gallery is located at 10701 Livingston Road, Fort Washington, MD. Contact the gallery at 301.203.6070