An impressive retrospective of the work of Helen C. Frederick is currently on view at Terzo Piano.  Curated by the artist and gallery owner Giorgio Furioso, it tracks the artist's trajectory from the early 1970s to the present.  Her long and extraordinarily productive career is represented by works in multiple techniques, primarily on and of paper.  The entrance room of the much expanded gallery space holds the most recent series of pulp paintings, a technique of which Frederick is a master, and from which the exhibition takes its title.  A sentence from her artist's statement can serve as an introduction to the crisscrossing themes that have been fundamental to her thinking:
                   The exhibition Sanjeevani reveals my long standing engagement with ideas of suspended time, the ecological, the existential, and the construction and destruction of places, images and words. [1]
Frederick's travels to India, beginning in 1976, and her deep engagement with its culture and spiritual practices have had a significant and lasting influence on her life and her art.  In Hindu lore, sanjeevani is a magical herb believed to have the power to heal and restore life, even to one near death. Frederick presents the story from the ancient Sanskrit epic, the Ramayama, specifically through her experience of the past two years of the covid pandemic, but more universally, by transforming it into a modern parable. Briefly, Lakshmana, Prince Rama's brother, is near death on the battlefield.  The monkey god, Hanuman, is tasked with bringing the magic herb to heal him.  When he can't identify it among the herbs growing on Mt. Dronagiri, he carries the entire mountain to the battlefield.  After Lakshmana is thus miraculously cured, he and his men go back to war.  Similarly, Frederick points out, we were able to develop vaccines to prevent illness and death from COVID-19. "Yet," she writes, "we keep going on with dangerous behaviors, violent acts, and perpetuating damage to our environment."[2]  In many of the eight paintings in the series, as in Sangeevani (Black), we see the figure of Hanuman carrying the mountain surrounded by syringes of the vaccine.  In that painting, he is seen against a maze, which is nearly impossible to escape and thus, for Frederick, is a symbol of being helpless against the demons that compel us.  An interlaced form seen inside the mountain in this painting is also found in the center of Brahmananda (2021) as well as in other works.
Reminiscent of Indian kolam designs, Frederick sees them as "lifelines" and symbols of hope.  The oval form, here and in many other works in this exhibit, relates to a powerful experience during the artist's first trip to India when she saw ellipse-shaped lingam stones being washed in a temple of Shiva, Hindu Lord of Creation and Destruction.  These are sacred elliptical-shaped polished stones used in ritual everywhere in India.
Yet, the form first appeared in an color etching of 1974 that Frederick had titled Brahmananda (King of Haystacks) "without knowing why."  The print was made following her trip to Norway the same year as a Fulbright recipient. Reflecting this experience, it is inscribed with Scandinavian runes, letters or ideographs that were used in medieval Northern Europe for ordinary writing and for magical and divinatory rituals. What this demonstrates is Frederick's wide interest in philosophy, religion, and a variety of cultural and historical contexts that she has woven together into her work over the last nearly fifty years of constant practice. Indeed, she considers herself "a laborer of art," "grounded in ritual," and "by the labor of the hand for the making of objects".[3]
The ellipse appears again in 2019-20 in a series of works that were meant to be part of PARADOX, an exhibit at American University Museum Katzen Arts Center that was cancelled by the pandemic closure.  Frederick had sent out a questionnaire to artists in 2019 she titled "Milestones for Hope" asking recipients for their feelings about current threats to the biosphere, ideas for healing the planet, and personal symbols of hope.  She received nearly 100 replies, and worked these texts into the series then titled Paradox, but retitled Milestones for the Terzo Piano retrospective.
Milestones 1 incorporates text fragments from a number of the replies to the questionnaire.  Frederick has scored a white-line transparent maze over the texts signifying how difficult it might be to escape.  But the ellipse hanging in front of it speaks of life and the realization of hopes for healing.
Milestones 2 is a striking image incorporating the pattern of the floor labyrinth of Chartres Cathedral.  Not a maze, it invites a slow, meditative progress to find a way through and out of it that people have practiced for centuries there and in copies of it in many other places.  In Frederick's painting, a collaged paper over the exit reads "environmental crisis".  The ellipse hovers over it with its text wrap.  Yet the artist is not only interested in the content, but also in the formal aspects of these works.  She has commented that the "community narratives are combined [in them] with my interest in the nature of materials…hand formed paper's malleability, color, shrinkage and surface qualities…," adding that she is still making discoveries in hand papermaking with each project.[4]
Each of the respondents to Frederick's questionnaire was asked to send a photo self-portrait with their submission.  The artist flooded them digitally and printed them on thin hand-made paper.  They form a grid literally papering the Witness Wall Room in this installation, witnesses to the catastrophic damage we are causing to the planet "as a result of individual and corporate materialism, societal injustice and nuclear threat."  At the end of the small space Dislocations, a video made in 2011 in collaboration with Sean Watkins, plays on demand.
Frederick was born on June 16, 1945, two months before the first use of the atomic bomb in Japan.  This fact had a strong impact on the artist, and images of the bomb and its after-effects are seen in many works.  It is a leitmotif of the video, along with clips of many other horrors experienced in the world ever since, not the least of which was the constant threat of nuclear war with the Soviet Union.
Among the works in the widest galley space are a series of large prints dating between 1996-2011 in which multiple images are combined with words.  Some of them specifically recall prints of this type by Robert Rauschenberg of the 90s.  Rauschenberg was himself plagued by the nuclear threat, as was everyone of that generation—a fear that has reared its head again more recently.  Among the most striking of Frederick's is one titled Water from 2011.
In it, the word WATER floats at the water's surface while a snake seems to come up from below to drag down the T.  Above that letter is a circle with the nuclear mushroom cloud forming at the top.  However, in front of it is the word ABRACADABRA arranged as a descending triangle, one letter missing in each line until there is only the A.  While the idea of fake magic might come to mind, the reference here is far more subtle.
The origins of the word are uncertain, although it was first recorded in a Latin medical poem, De medicina praecepta, by the Roman physician Quintus Serenus Sammonicus in the second century AD.  Serenus wrote that to be cured a sick person should wear an amulet around the neck, a piece of parchment inscribed with a triangular formula of the word which acts like a funnel to drive the sickness out of the body—just as Frederick has laid out the letters in her print:
A B R A C A D A B R A
A B R A C A D A B R
A B R A C A D A B
A B R A C A D A
A B R A C A D
A B R A C A
A B R A C
A B R A
A B R
A B
A
This was also the way that the word was voiced in medical treatments through the middle ages to as late as the 18th century in Europe.  Even more interesting is the belief that the word is derived from three Hebrew words: ab (Father), ben (Son) and ruach adadosch (Holy Spirit), or from the Aramaic avra kehdabra meaning "I will create with my word".  In the context of this print, and in this exhibit generally, we can see Frederick (who is aware of the Hebrew origin theory) adapting the amulet to the healing of the world and the restoration of its life blood—water.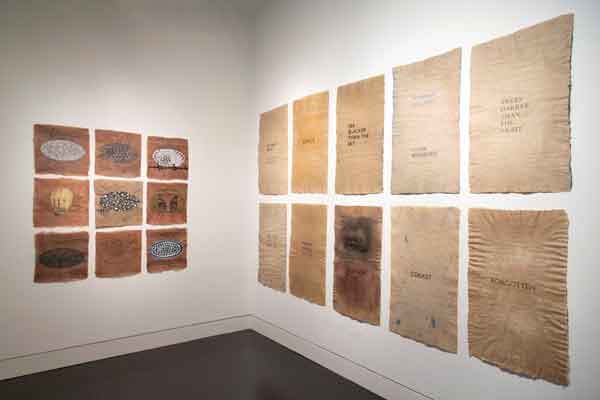 Frederick's poetic impulses and her fascination with the manipulation of words led to Word Pieces.  Imagined in 2016 as a group of word diptychs, here all five pairs are hung together.  The words in black form a kind of poetic meditation as the viewer can sit on a bench and contemplate them: Suspended Stillness/Endless Restlessness, Inhale, Exhale, Delete/Space Trees Darker than the Night, etc., reading them in vertical pairs or horizontally across the entire wall.
On the wall to the left Draw Attention to Migration (2021) is a group of nine panels, each with a patterned ellipse in the center.  Although this was not the artist's conscious intention, in their horizontal orientation they reminded me of mitochondria, tiny structures inside our cells without which the cell cannot function—i.e., vital to life itself.
In the end, what emerges from this retrospective is Helen Frederick's long time planetary consciousness, and her commitment to expressing both her concerns and her hopes through an art that continues to do that with intelligence, impeccable craft and eloquent form.
Helen C. Frederick, Sanjeevani: From Here to There, Terzo Piano, 1515 14th Street, NW, Third Floor, Washington DC, 20008, Nov. 12, 2021 – Jan. 23, 2022, accompanied by a catalogue with essays by Jan Howard, Kathleen Blood and others.  Gallery hours: Wed.-Fri. by appointment; Sat. and Sun., 12-5, no appointment needed.  Masks required.  Phone: 202-847-0142.  www.TerzoPianoDC.com.
---
[1] Helen C. Frederick, "SANJEEVANI, From Here to There," in the exhibition catalog (same title) published by Terzo Piano, Washington DC, 2021, p. 63.
[2] Ibid.
[3] Ibid., p. 64.
[4] This and subsequent quotes from email correspondence with the artist, 12/28/2021.
---
Funded in part with a grant from: