The Virginia Museum of Fine Arts in Richmond is presenting a major exhibition of paintings, watercolors, prints and never before exhibited drawings by American artist Edward Hopper (1882-1967) with a focus on his representations of hotel and motel interiors.   Edward Hopper and the American Hotel was organized and curated by VMFA's Leo Mazow and includes an interesting group of works by a number of other twentieth-century American artists showing Hopper's extensive influence on artistic conceptions of the theme, particularly in photography.  They are designed to encourage the viewer to look in—even in cases where they'd rather not.
The sense of becoming a forced voyeur when confronting many of these paintings, especially when the figures seem unaware of our gaze, is perhaps the most striking takeaway from the exhibit.  This aspect was, one might imagine, underlined by the curator's decision to recreate the room depicted in Hopper's Western Motel (1957) in which visitors, for a modest fee, could stay overnight.[1]   The room is visible through a large window that mimics that shown in the painting, and is just as cold and empty looking.  A curious detail about the choice of this work to recreate in three-dimensions is that it is the only painting by Hopper in the entire exhibition in which the figure—a woman seated on the bed wearing a dress and low-heeled shoes—is engaging the viewer.  How odd it would be to sit on that bed looking out with viewers looking in!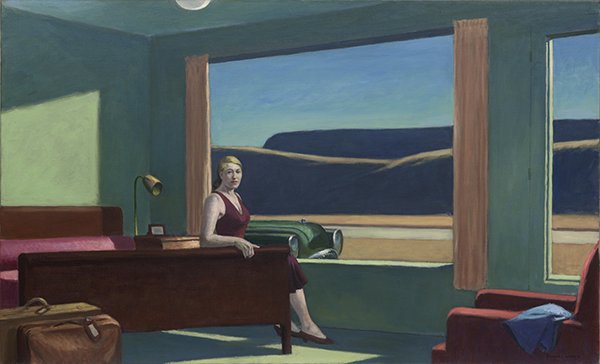 For a number of years in the early 1920's Hopper illustrated covers for two hotel trade magazines—an occupation that brought him directly into the orbit of the budding American hospitality industry.  These are rarely reproduced in publications of the artist's work, and they are wonderfully reflective of the times.  My favorites included one showing fashionable people in an open car arriving at a hotel.  One of the points made in the wall texts was the way that the availability of cars encouraged travel, especially extended road trips, and in turn, the appearance of all kinds of temporary rental situations, including motels.  Hopper and his wife Josephine Nivison Hopper travelled a great deal in this way—trips that were minutely described in Jo's cramped handwriting in narrowly lined little notebooks.  The latter, along with post cards and other documentation, add to creating a context for the paintings in the curator's stated attempt to re-assess the artist's representation of "hotels, motels and other transient dwellings as vital subject matter for Hopper and as a framework with which to understand his entire body of work" and thus, "to expand the terms of alienation and fragmentation in which Hopper's art is often discussed."
Indeed, the feeling of alienation in the city, of being alone, especially at night, even while being surrounded by people is strongly present in many of Hopper's best known paintings such as Nighthawks (1942) and the much earlier Automat (1927) which may represent something of an epitome of this kind of loneliness.  In both these compositions Hopper used light to focus on the protagonists and their isolation even while inside places that should have offered some sense of companionship.  Some of this is also evident in the hotel interiors, perhaps most strikingly in Hopper's 1932 Room in New York.  In it we see a couple inside a room that might be in an apartment or, as the wall label suggests, in an apartment hotel, an institution which enjoyed popularity in New York until the 1950's.
The extra-large window is wide open and the viewer is somehow elevated to a place right outside of it (perhaps from an adjoining building?) so that he/she can see into this private space.  The viewer then, as voyeur, is provided a long look at these individuals and their rather disconnected relationship.  As in so many of Hopper's works, the narrative is mysterious, bringing us further into the painting's world. The figures seem to be in a suspended moment, perhaps waiting to soon go out to dinner or a show.  They're both ready, but it's too early to leave.  Or, perhaps, the situation reflects a much deeper psychological rift between them—he reads the newspaper while she toys with the piano.  Hopper has said that the idea for this painting had been in his mind "a long time before I painted it.  It was suggested by glimpses of lighted interiors seen as I walked along the city streets at night…although it's no particular street or house."[2]
Hopper stopped illustrating covers for Hotel Management in 1924.  His Eleven AM of 1926 is the first painting of a figure in a hotel interior after that date.  We see a rather cramped space with a large lamp in the foreground.  A very white woman with long hair, her skin dappled with touches of green and blue in a manner reminiscent of Degas' pastels, sits in a deep blue armchair that she has dragged to an extra-large window.  She is naked except for her slippers, which make her seem all the more so.  Yet, she sits at the window, looking out, while what seems like morning sun pours into her room, a bright spot behind her on the wall.  We are looking in on her, she unaware of her state.  The sense of forced voyeur is almost painful here: a very private moment, perhaps one of despair.  The painting is so simple formally.  Large swaths of basic colors—yellow, blue, green and dark red.  And the surface is fairly textured, as though once away from the slickness of his illustrated covers, Hopper is enjoying his brush.
Five years later, in Hotel Room of 1931, the narrative is a bit clearer—or is it?  The woman has arrived in the hotel.  She has taken off her shoes, her outer garments and her stockings, and sat down on the bed.  Her expression is serious.  Although the curator has described the yellow paper in her hand as a train schedule, emphasizing her transience, when I taught this image in my course on modern art, I interpreted the yellow paper in her hand as a telegram, almost never good news, explaining why she looks so hunched over and sad.  Hopper himself wanted viewers to form their own narratives.  And this is a good example of that.  But why are we looking in the doorway of her hotel room as she reads this ominous message?
Hotel Room is a wonderful example of the simplification of form and technique that took place in Hopper's style between these two paintings (1926-31).  One of the things that stands out in the later painting are the block-like forms of the yellow window shade, contrasted to its complementary in the blue wall at the left.  Green carpet between them and bright green chair—blue black under the shade and the lavender swathe representing the cover at the foot of the bed.  If we compare the sparing use of detail in this painting to one also in the show by J. Theodore Johnson (1902-1963) titled Chicago Interior (1933/4) the point would be made.  Johnson was evidently influenced by Hopper's example, and his image of a woman sitting in an armchair reading is comparable.  However, she is completely dressed, and there are lots of details that would have been smoothed out or eliminated by Hopper.  One gets caught in them and misses the larger use of color in the composition.
Before concluding, I wanted to mention another of the related works in the show and its striking comparison with Hopper's.  This is a very large digital print by Gregory Crewdson, a photographer whose work has been strongly influenced by Hopper's example.  In a way that also recalls the example of Cindy Sherman, who has herself been compared to Hopper and who is also represented in this exhibition, Crewdson finds the cinematic potential in Hopper's interiors.  Untitled (Debutante), from the series Beneath the Roses (2006) is a remarkable example.  The tension and sense of ominous dread that pervades this picture begins with a work like Hopper's Hotel Room but augments it almost to horror film level.  Indeed, the space between the odd emotional content of many of Hopper's paintings of this genre, and the frightening character of 20th century melodramatic films like those of Alfred Hitchcock, is not all that far.  After all, that murder scene in Psycho takes place in a hotel!
 Edward Hopper and the American Hotel, Virginia Museum of Fine Arts, 200 N. Arthur Ashe Blvd., Richmond VA 23220.  Through February 23, 2020.  For more information, see www.VMFA.museum or call 804-340-1400. 
---
[1] Although NPR's Susan Stamberg said she had a "good night's sleep" there, I have to agree with Sebastian Smee's comment that he "can't think of anything more creepy than waking up in such a place at 3 a.m," (Washington Post, Sunday, Dec. 1, 2019), even though, as a young girl, I dreamed of hiding out overnight at the Met!  Reservations were sold out soon after the opening. On Stamberg's experience cf. https://www.npr.org/2020/01/02/792390547/one-night-in-an-edward-hopper-hotel-room-its-less-lonely-than-you-might-think
[2] Interview with Lloyd Goodrich. https://www.edwardhopper.net/room-in-new-york.jsp