A solo exhibit of recent work by glass artist Michael Janis is on view at the Maurine Littleton Gallery in Georgetown, his first since 2011 at the Fuller Craft Museum in Brockton, MA.  In this show the artist continues his exploration of using crushed glass powder that he manipulates with ceramic and enamel tools to create detailed figurative imagery.  Many of them include fused glass components layered over the drawings which both highlight and hide the portrait-like drawings.  Many have cast-glass additions, featuring flowers or butterflies, attached to the surface.  In an interview with the American Craft Council in August, Janis gave a succinct description of what he was doing in preparation for the exhibit:
"In the works for Echoes of Leaves and Shadows I have been examining aspects of dimension, media, and identity. I have been working with the technique of fusing with glass powder to create imagery, essentially "painting with glass on glass" for many years, balancing translucency, opacity, and transparency with color to achieve depth in the two-dimensional plane. Many of the works in the show integrate cast-glass elements – pulling the work out of the 2D plane. In exploring the inherent qualities of transparency and opacity of the medium and how they can inform my narrative, I've been mixing ceramic and glass in my sculpture and arranging my narrative imagery in ways that create new realities and surrealities." [1]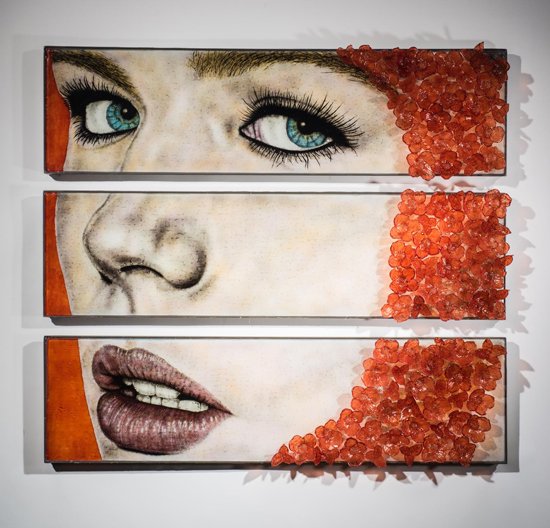 The white interior of the gallery provides the setting, then, for seventeen wall hung glass works that cross the line between sculpture (as in relief sculpture) and painting, and which stand out in brilliant color.  For a long time Janis' work was very restrained in both color and subject.  These works from 2015-16 are exactly the opposite.  Flamboyant in their subject matter and their bright color, they interact with each other dynamically across the space.  The majority are fairly large pieces, each featuring a partial figure, mostly portrait length.  The subjects in all but two are young, beautiful women— idealized faces with nearly the generic features that we are familiar with in advertisements and fashion magazines, including the blank expressions that these women often have.  At first glance, this may actually be strongly disconcerting.  The eyes and lips of the women are all very pronounced.  Janis deliberately made them that way.  In a conversation with the artist, he confessed that he wanted to make a "generic statement about beauty, in poetic or romantic rather than painful terms."
This brought to memory the description of an ancient statue in the catalogue to a British Museum exhibit that seems to be appropriate to understanding Janis' aim—an ancient one expressed in modern terms.[2] The focus here is a Roman copy of a lost Greek work from c. 430 BC that alludes to the story of Charmides.  In 431 BC Socrates was introduced to the beautiful youth Charmides at the wrestling school.  Pursued by admirers, Plato recorded, "they all gazed at him as if he were a statue."  Socrates was asked "do you find him handsome?"  "Yes," he replied, "but if he took his clothes off, you would think him faceless, so perfect is his beauty."  Thus the story alludes to the idealized statues of the 5th c. BC Classic period that were given generic, expressionless features to reduce personality to an ideal type.  Charmides did not provoke attention in any erotic manner—neither do Janis' women, many of whose eyes evade direct contact with the viewer.  His perfect beauty was what the Greeks called "beautiful and good."
Thus, although they appear to be portraits, they are not in the true sense of that word.  They are beautiful faces embedded in glass in works with "poetic or romantic" titles such as The Murmur of Wings with attached blue butterflies, or The Place Between Memories with blue circle overlays surrounding and masking a young face.  Echoes of Leaves and Shadows features a girl who looks like she stepped out of a fitness ad, covered with yellow overlays, while Blue Remembered Hills almost has an Asian feeling to it:  a longer length slender figure with dark shining hair in deep contemplation against blue and green glass swirls that look like mountain forms.
Two of the larger works, In Bloom and The Weight of Light have a different effect than the others.  The former is almost frightening with its contrast of orange glass cast flowers against a blue background and a figure with huge black circled eyes.  The latter is not pretty like the rest.  A partial face divided into three panels reminiscent of Dürer is overlaid with a greenish blue color, and highlighted with surface attachments.  Its size and the lack of the mask-like beauty of the others make it stand out.
There is one male figure in the group of wall pieces.  Casting Long Shadows figures a young African American dressed in a polka-dot suit with a daisy boutonnière, and three dimensional purple cast flowers fused over his head.  He eyes are averted in a skeptical expression that deflates the potentially humorous effect of the flowers.
Four smaller works are also in the show made from kiln formed colored glass and glass powder imagery.  These are approximately 12 inch squares that fragment the parts of the face, subverting the beauty of those features, but are no less visually attractive.  The full red lips in Stillness were particularly hard to achieve.  The little glass bubbles resulting from the layering add a touch of playfulness to this and many other pieces in the show, while they also emphasize the two dimensional against the three dimensional elements.
Two actually three-dimensional ceramic pieces are also included in this show, both portrait bust size, the result of mixing glass with clay in a new way.  Transformations looks like a marble Republican Roman portrait head literally transformed by deep blue/green leaf forms arranged around his head like a wreath, and running down his neck.
From both a technical and subjective viewpoint this is a striking show.  It continues through October 15th.
---
[1] https://craftcouncil.org/post/michael-janis-echoes-leaves-and-shadows
[2] Defining Beauty: The Body in Ancient Greek Art, ed. Ian Jenkins, British Museum Press, London, 2015.
---
Maureen Littleton Gallery is located at 1667 Wisconsin Ave NW, Washington, DC 20007.  Contact the gallery by phone at 202.333.9307 or visit the gallery online at www.littletongallery.com