Micro-monuments II: Underground casts the 23 included artists as modern day cultural anthropologists, using art as both a mechanism to delineate humanity's role in directly shaping the landscape and metaphor for explaining how the invisible hand of the cosmos presses back against us.  Following upon the first iteration of Micro-Monuments that took place in 2015 in Schonebeck, Germany, this German-American artistic fellowship between the Salzlandmuseum and the Washington Sculptors Group seeks bring a cross-cultural dialogue to questions that have beguiled philosophers through the ages:  What is the nature of the universe?  How did we come to be here?  Who are we as humans? Eight German artists were selected by coordinating curator Artemis Herber with the assistance of Dr. Ines Janet Englemann; 15 area artists were chosen via an open call by the DC-based curator Laura Roulet.  The resulting sculptures vary widely in material, form and message but they coalesce in their attempts to ground our contemporary understanding of the world around us by engaging with our mythic past.
The artists were invited to ponder the Nebra Sky Disk- an historic artifact found near the town of Nebra in the German state of Saxony-Anhalt.  Dating from the Bronze Age, the stars and lunar forms on the surface of the disk are thought to the first depiction of the cosmos.  The 12.6" diameter disk demonstrates that the heavens above have been of fascination to artisans for thousands of years before Western, Christian notions of heaven became part of our cultural identity.  To further emphasize this contemporary-ancient dynamic, the diameter of each artist's work could be no larger than the Nebra Disk itself, forcing the artist to consider how their artistic inquiries reverberate across radically different time periods and cultural milieus.
The imposed size restriction forces these artists to pack powerful sentiments into diminutive packages.  In walking through the gallery, two broad approaches to the exhibition's premise take form.  The environment, and our historical understanding of the ground we walk upon, is the focus of several works that speak either directly to, or obliquely about, our physical landscape.  Other artists focus more upon the cultural framework through which we envision our relationship to the self and to others.  Several works blend the line between these two themes, suggesting that our historical understanding of the self is inherently linked to the land around us.
Works capturing facets of the environment directly address the exhibition's theme by highlighting the substrata beneath our feet.  Simon Horn's Grabung (Excavation) No. 4, project, "Built Spaces" (2010) and Urban Sediments (2018) by Nina Viktoria Naussed depict crumbling, manmade structures seemingly abandoned by their inhabitants.  Withered away by the ravages of time, they could either be viewed as historical remnants of past civilizations or, more ominously, a foreshadowing of what lies ahead of us.  TIMETEMPLATE I-V (2018) by Ursula Achternkamp and Judith Pratt's Cube #4 (Heap) (2017) survey the natural environment, the former focusing on the ideas of trees as sentinels of time whose wisdom is only revealed through their destruction and the latter envisioning layers of refuse as the new "soil" upon which we tread.  Midden (2018) by Joan Mayfield builds upon Pratt's ideas, casting contemporary refuse from her neighborhood as a prehistoric vestige of an ancient culture.  Each artist asserts a curiosity as to how societies ebb and flow through time; several (Mayfield and Pratt in particular) use this moment to contemplate how contemporary society is upending the environment in unprecedented ways.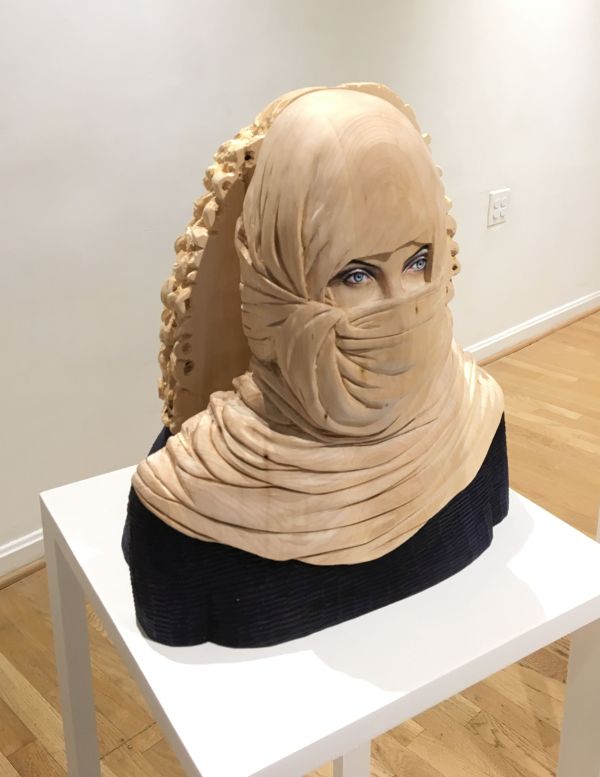 Works that examine intrapersonal dynamics tend to be more oblique in their references to terra firma, instead focusing on what defines us as human.  Whether dwelling on culture-wide idiosyncrasies or focusing more upon the individual, these artists demonstrate both our capacity for self-reflection as well as our easy retreat to base instinct.  Works by Esther Eunjin Lee and Judith Goodman take the macro view, conjuring dark impressions of a culture at odds with the natural world. Lee's A Spoonful of Sugar (2018) likens the field of battle to a candy-coated playground, citing how desensitized modern society has become to the horrors of war.  Goodman's Factory Farm (2015) follows a similar train of inquiry, noting how blithely we send millions of animals to slaughter each year without thought to their existence.
Marc Fromm and Kristina Penhoet present more interpersonal works, examining the individual emotional connections that bind us as a species.  Fromm's piece What is love?.. veiled What is love?.. curly (2018) is a diptych of sorts carved from basswood with its two sculptural components positioned facing away from each other.  On one side we see a woman covered in a headscarf, her eyes being the only physical feature we can discern.  Walk around to the plinth and a woman with radiant, curly hair, facial piercings and a cross necklace come into view.  Fromm seems to suggest that what we think we know about the innate humanity of a person is subject to culturally-constructed bias.  Penholt brings a distinctly autobiographical perspective to 37 Hours/41 Lies (2017), a fabric construction whose grey color palette and wound-like orifices presage the emotional dissonance between mother and daughter described in her artist statement.
Several works blur these broad categories in their attempt to highlight how our fleeting conceptions of reality fail to grasp the enormity of the planet we inhabit.  At first glance Huracàn (2018) by George Mann seems to be a straightforward representation of a meteorological event.  Look closely into the eye and the phrase "America First" pops into view.  With two simple words, Mann demonstrates how our contemporary political machinations fail to consider earth's geological and ecological timelines.  Steve Wanna injects a little levity in his work What Remains (2018), a mixed-media work that displays an oddly humanoid mechanical form (a robot perhaps?) examining a leaf.  The quizzical little "guy" would be humorous if not for the fact that the vegetation disintegrating before its monocle, presaging a time when perhaps life as we know it will look radically different.
The exhibition works best when it when it forgoes the macro- and microscopic worlds and grapples with reality that is directly engaged with our five senses.  While in theory the microbiome would perhaps lend itself to diminutively scaled-sculpture, the microbial structures in Genii Loci #2 (2017) by Sara Parent-Ramos appear less intertwined than their symbiotic nature would suggest.  On the other end of the spectrum the infinity of cosmos is only partially elucidated in Starry Night (2016) by Jacqueline Maggi, Towards Union (2018) by Alan Binstock and Margit Jäschke's PARS PRO TOTO (2018).  This is not to suggest these works are lacking in artistry—Binstock's contrasting use of mass and void and Parent-Ramos's playful color combinations in particular are sights to see.  Rather, it demonstrates the uphill battle an artist faces in attempting to give visible form to that which is inherently invisible.  That criticism said, I certainly hope they do not stop creating.  Like the artisan behind the Nebla disk, their imaginations lay the scientific groundwork for our present dreams to become future realities.
_________________________
Micro-Monuments II: Underground runs through October 28, 2018 at International Arts and Artists at Hillyer. For more information, visit the gallery's website here.