Self-portraits often reveal as much or more about artists' inner lives as they do external appearances.[1] Olivia Tripp Morrow takes this notion to an extreme in A Dream Only My Body Remembers (Figure 1). Here, she presents the view her surgeon, Dr. Lawrence Lenke, had of her body during a January 2020 procedure to correct a progressive spinal disorder. In this reinterpretation of a video still from the surgery, Morrow masterfully renders the surgeon's gloved hands and her spine (covered by a surgical cloth) on thin blue-green fabric that resembles hospital scrubs. She embroidered the surgical implements, the blood, and musculature using a chain stitch that appears to have been machine-made. Yet Morrow created these meticulous stitches by hand, over many hours, just as the surgeon painstakingly reconstructed her spine. In this way, she draws a parallel between her craft and that of her doctor, both of which require stamina, strength, and precision.
A Dream Only My Body Remembers serves as a touchstone in Morrow's solo exhibition Body, Joy, Cage, Scar in the Wyatt Resident Artists Gallery at Arlington Arts Center (AAC; Figure 2).[2] The works on view build upon her experiences before and after major spinal surgery to explore broader themes of adaptation, persistence, resilience, and even joy. Following conversations with fellow AAC resident artists, Morrow curated the gallery to include realist, abstract, and conceptual work that presents physical pain as only one facet of her journey. The range of media—some of which she took up following her surgery—and achronological display suggest that the process of healing is varied, non-linear, and ongoing.
Morrow began making small embroideries early in her recovery, before she was able return to her regular studio practice. Her mother, Tally Tripp, a professor at the George Washington University Art Therapy program and director of training for Common Threads Project in New York, suggested she embroider a small story cloth to depict her experience. The story cloth, or narrative textile, is an integral tool in healing trauma, where artists depict their often "unspeakable" stories using accessible materials, such as cloth and thread. Although Morrow's first story map is not on display, the artist includes two early, warm-hued embroideries in Non-Linear Healing Map (Figure 3); a positive image of a ribcage surrounding the outline of a spine (bottom left) and vertebral forms that fade as they arc forward (bottom right).
Other objects on this gallery wall are realistic representations of the curvature of Morrow's spine before surgery. These drawings are rendered in the loose, yet assured lines found in the work of Edgar Degas or Suzanne Valadon, although the severity of the condition makes certain works appear more abstract. While some drawings are clearly based on X-rays and others are more gestural, all are grounded in the deep knowledge of anatomy Morrow acquired through both artistic training as well as research on the procedure. The artist unifies the drawings in ink and charcoal with the embroideries by framing them with a blanket-stitch. For her, the stitching, which has no visible beginning or end, marks time. Although doctors set benchmarks for her recovery, Morrow observes that the body heals on its own timeline. Her careful, methodical handling of the materials also relates to the intimacy she felt with her mother and other family members who cared for her after the surgery.
A sculpture displayed below the gallery wall elaborates on these themes of time and adaptation (Figure 4). It consists of several squared, hollow ceramic objects laid out on a wooden base like vertebrae. Morrow created them in a ceramics class, pushing the forms through a clay extruder as an alternative to wheel throwing, which was too painful at the time.[4] The modulated, rusty red exterior contrasts with the bone white of the interior, evoking extreme violence. Morrow has arranged the twisted and fractured forms so that some curve back and others forward. With their uneven lengths, they form a skeletal timeline, where certain moments feel longer than others. Together, the gallery wall and sculpture remind us that even as our bodies exist in the present moment, they simultaneously bear the scars and memories of the past, along with anticipation for the future.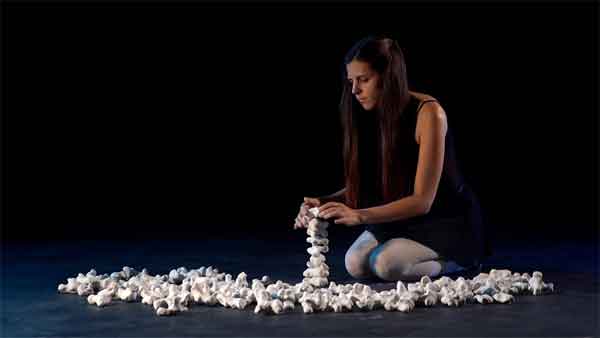 Early in her recovery, doctors told Morrow to walk for six minutes, five times a day. Since walking hurt, her mother proposed a distraction: modeling the porcelain clay a friend had given her in her hand during the proscribed intervals. In the video Porcelain Towers, with lighting and videography by documentary filmmaker Alex Wenchel, the artist stacks the resultant vertebral forms until they inevitably collapse (Figure 5). Absorbed in this futile process, Morrow loses track of time. Her perspective is limited by her mobility, and she cannot bend or turn to find pieces that might fit together better. At once meditative and punitive, Morrow's somber performance implies that it may not be possible to reconstruct life as it was before. Nor can one make art as before; her earlier, more playful self-portraits likewise incorporate textiles and multiple images of the body, but through extreme close-ups and abstraction, they defy recognition and ultimately create sense of distance instead of intimacy.[5]
In Body, Joy, Cage, Scar, Olivia Tripp Morrow's "before" and "after" are marked by her procedure in early 2020, about two months before the lockdown in March ruptured lives on a more universal scale. Most of us may never experience major spinal surgery, but the pandemic has heightened our awareness of the body's fragility, or, as Morrow puts it, "how precarious we are as creatures." As we learn to live with a virus that does not respect human agendas, we too, must adapt. Morrow shows us that no matter how painful the process may be, creating something new can also bring joy.
*Note: In Arlington Arts Center's current group exhibition, Take a Number: Artists and Bureaucracy, seven artists explore the larger systems that impact their work and our lives, offering a compelling counterpoint to the interiority of Morrow's solo show. AAC will have special opening hours on Sunday, December 12 from 12­–5 p.m., before the exhibitions close on December 18. Arlington Arts Center is located at 3550 Wilson Blvd Arlington, VA 22201. Contact the center at (703) 248-6800.
---
[1] This review is based in part on a studio visit and conversation with Olivia Tripp Morrow in November 2021. I am grateful for her detailed explanations of artistic processes and medical procedures as well as an engaging dialogue about the wider themes she explores in her work.
[2] The title A Dream Only My Body Remembers alludes to Dr. Bessel van der Kolk's book on the ways trauma changes the body and brain: The Body Keeps the Score: Brain, Mind, and Body in the Healing of Trauma (Penguin Books, 2015).
[3] I would like to thank Tally Tripp for providing this explanation. For more information on story cloths and Common Threads, see: Lisa Raye Garlock, "Stories in Cloth: Art Therapy and Narrative Textiles," Art Therapy 33, no. 2 (2016): 58-66 (Accessed December 2, 2021): https://doi.org/10.1080/07421656.2016.1164004
[4] Ceramicists use clay extruders—devices that push clay past a die, often using a lever—to make hollow forms. Smaller extruders might be used to make mug handles while larger, wall-mounted versions, like the one Morrow worked with, could form vases or other functional vessels.
[5] For more on Morrow's earlier self-portraits, see my review "Character Abstraction at Brentwood Arts Exchange," East City Art, July 22, 2019: https://www.eastcityart.com/reviews/character-abstraction-at-the-brentwood-arts-exchange/