If you google the phrase "what is art" or "what is the purpose of art" you get a plethora of responses.  Most commonly the answer to the first is something like: "Art is a way of expressing emotion."  Or, "art is communication".  Picasso said, "The purpose of art is washing the dust of daily life off our souls." More recently artist Erik Wahl wrote, "The purpose of art is not to produce a product.  The purpose of art is to produce thinking… Art is a process, not a product."[1]
My encounter with the work of the winners and finalists of this year's Trawick Contemporary Art Awards competition generated these questions in my mind as fairly all of the work in the exhibition, now at Gallery B in Bethesda until the end of the month, expresses political opinions and social themes with varying degrees of aesthetic interest.  What I mean is that it did seem that the jurors were expressing a strong bias toward work that put communication of current "issues" ahead of the means with which those are expressed.  This is not terribly surprising at this juncture of pandemic, politics, social upheaval and all the rest that has characterized this year.  But there should, I think, still be room for critique of the product if not the intent.  Does a work succeed in conveying the complex ideas that an artist's statement describes without having to read that statement? Does it, by itself, "produce thinking"? Does it "communicate"? Does it convey emotion?
Of all the winners, the work of the Young Artist Award winner is perhaps the most successful on all those counts.  Bria Sterling-Wilson is a BFA student at Towson University and already has a freelance career in photography.  With that background, she turned to creating photographic and digital collages that "question the idealized standards of beauty" in society and address the currently popular themes of "cultural appropriation, race, stereotypes and identity".[2]  Nevertheless, the works themselves are visually attractive and thought provoking without the text support.  Using images from magazines and newspapers as well as her own photographs, Sterling-Wilson builds composites of racial contrasts, as in her Untitled illustrated here.  Irony is often an element in her work, particularly in a compelling collage with digital manipulation titled Royalty which produces a nervous laugh in some viewers.  Among her works in the exhibit, a collage of a young Black woman with added blond hair carries the title You're Pretty for a Black Girl is interesting in that the image itself draws the viewer, while the title adds the direction for their contemplation of it.  Titles have a strong effect on how we respond to art works.
Second prize winner Erick Antonio Benitez is a first generation Salvadoran-American multi-disciplinary artist and musician based in Baltimore.  His interest in sound is evident in the work representing him in this exhibit: a large installation, Portrait of the Living Sky with multiple video components, sound elements and recordings made in three different locations where the artist carried out field research.  The work generally feels documentary, reporting on the environmental and cultural conditions he encountered in these places.  The parts are indexed in an elaborate brochure with a key explaining all the parts, which, it might be added, are widely spaced and don't all seem to relate to one another.  The most interesting of the videos is one featuring a curandero or traditional healer going through the rainforest south of Iquito, Peru on the Amazon River to find the leaves needed to make a ceremonial tea.  There is a running narrative, mostly of Don Lobo relating the difficulties necessary to obtain these herbs.  But then there's a holster that the artist bought in a Baltimore market containing vials of body oil with fashion designer labels.  If the purpose of art is, at least in part, "to produce thinking" then this work achieves that aim. How, the viewer might ask, do these belong together in this installation?  The artist's statement talks about "approaches that focus on the parallels between nature and mysticism."  I'm afraid I missed that aspect of the work in the exhibit.
The aims of Nara Park, third place winner, at least as described in her statement, have to do with using false materials, like Styrofoam beads and polystyrene foam, to make three dimensional objects that appear to be made of stone in order to allude to "sacred places" such as "graves [and] natural rock formations".[3]   Knowing this, the three pieces that sit in the middle of the gallery floor could be seen to do that, but otherwise look like inert plastic forms, one on the floor, one imitating one of Barnett Newman's bronze "zips", and one standing.  Not much "washing the dust of daily life off our souls" going on there.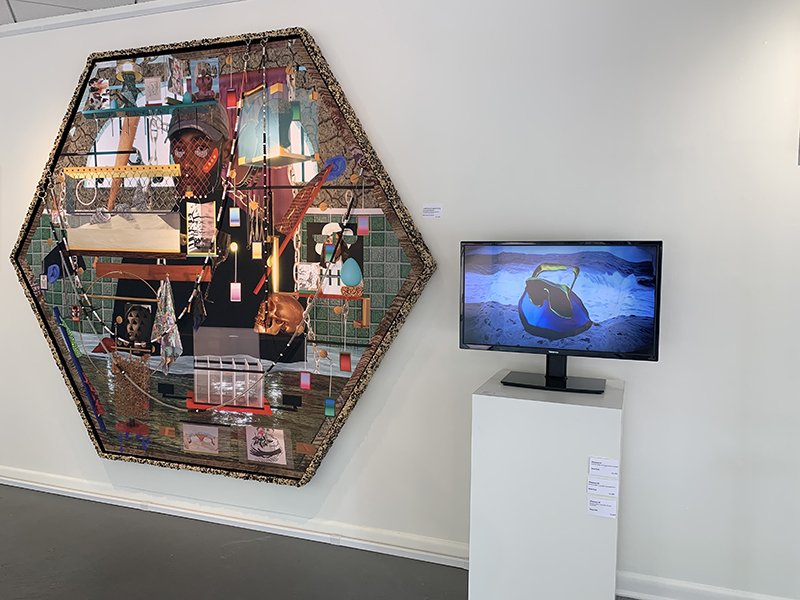 Finally, we come to the first prize winners, a collaborative pair of young men also based in Baltimore (as are all the finalists with the exception of Ms. Park), who work under the name Wickerham & Lomax, their last names.  According to their statement, "their practice is based on the accelerated exchange of frivolous information, gossip, and codified language that crystallizes into accessible forms in hopes of giving dignity to that exchange".  Yes, but what does that mean?  Technically, their video, Whale SPF 50, is attractive and professional looking.  But the slick imagery is trite at best and generally puerile.  There is a running narrative in which the word "whale" is heard now and then, but because the voices are doubled, it's very difficult to decipher.  One is left without much to think about.  And then there's a large work on the wall, A Self-Portrait Against Being Sad and Fetishized.  The technique is dye sublimation on canvas that looks much like a digital collage of very varied color images including the face of one of the artists wearing under-eye moisturizing strips.  It is hung with "beauty beads" and is framed with bird seed.  There's something in all of this that seems to allude to fashion and the "frivolous information" that fills up social media feeds, but it's no critique of that emptiness.  Perhaps that's the point.
The Trawick Prize: Bethesda Contemporary Art Awards, September 4 – 26, 2020.  Gallery B, 7700 Wisconsin Ave., E, Bethesda, MD 20814.  Open Friday -Saturday, 12-4.  For more information call 301-215-7990.
---
[1] https://www.theartofvision.com/2016/08/02/the-purpose-of-art/
[2] Artist's statement.
[3] Artist's statement.  These three works were part of a larger group shown at VisArts' Gibbs Gallery earlier this year.  Some earlier works by this artist, viewable on her website, are certainly of greater interest than these.
---
This article was funded in part by a grant from the Capitol Hill Community Foundation.  Visit their website at www.capitolhillcommunityfoundation.com