BY ERIC HOPE
The Smithsonian's Anacostia Community Museum is a little gem of a space located just a few miles away from the hordes of visitors on the Mall. It is an understated neighborhood museum whose goal of developing exhibitions exploring our sense of community belies the curatorial heft of the Institution behind it. Ubuhle Woman: Beadwork and the Art of Independence, the museum's current exhibition (through September 21), focuses that lens on a group of nine South African artists, with some surprising results.
I must admit when I read the term 'beadwork' in the title, my mind went immediately to the realm of craft. I certainly do not mean that pejoratively – the recent 40 Under 40: Craft Futures at the Renwick blew my mind – but my preconceived expectation was that I would be seeing well-executed works of craft honing to centuries of tribal traditions. If I were writing this piece just fifteen years ago, that might have been the case. According to the exhibition notes, for generations, beadwork has been a creative outlet for Xhosa and Zulu women, two tribal groups within the melting pot that is modern South Africa. Glass beads figure prominently in jewelry and traditional garments both for their sheer beauty but also as visual descriptives of status and place within society.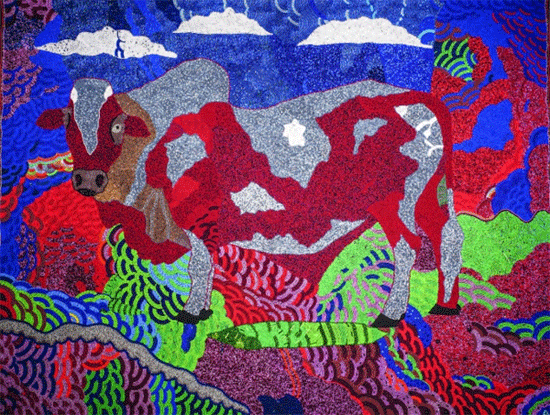 Tradition was cast aside in 1999 when the founders of Ubuhle (Oo-buk-lay or "beauty" in the Xhosa and Zulu languages), Bev Gibson and Ntombephi Ntobela, came together with a vision for an art colony that created financial independence for its female members. But to create an artists' colony in the face of local competition and cheap imports from abroad required equal parts ingenuity and the willingness just to let go. What would happen, the women seemed to ask, if we used these time-honored beading techniques in two dimensions on a form of canvas? The result is a new art form called the ndwango (in-dwang-go or "cloth") that uses black fabric that is stretched and manipulated as a backdrop for traditional beadwork. Ntobela has spent the last 15 years working with close to a dozen women, helping them to shape their skills and explore newfound possibilities within this new art form (sadly, five women in the collective have succumbed to HIV/AIDS-related illnesses over that time).
It sounds simple, but divorcing the beads from their usual three-dimensional contexts, i.e. jewelry and garments, pushes the women's inherent creativity in completely new ways. Traditional patterns are now only the starting point as the women weave beads onto the fabric much as a painter applies acrylic to canvas. To be sure, literal images referencing cultural touch points abound, as in the exhibition section titled The Bulls, focusing on animals which represent monetary wealth in traditional cultures. A 2012 project saw the artists traveling to a nearby cattle farm and each chose a beast that "spoke" to them. Cellphone images, the 21st century version of plein air sketching, were used back at the studio to create colorful images, the most striking of which may just be Zondlile Zondo's I am ill, I still see Color and Beauty: Jamludi The Red Cow (2012). Zondo is the lone Zulu tribeswoman in the collective (the other artists are from the Xhosa tribe) and her color pallet with its multiple hues of red and umber stands out amidst other bovine examples. Of note too are her short slashes of color along the bottom half of the work reminiscent of Vincent van Gogh's stabbing brush strokes.
While the animal representations are enjoyable to observe, perhaps even more fantastic are canvases which take on lush abstractions, blurring the borders between "modern" (Western) art and traditional Xhosa themes. Take for example Zulu Dance (Ear Plugs), (2006), by Thembani Ntobela in which swirls of color are molded and accentuated by parentheses of dark blue lines. The beads are tightly woven, to the degree that the canvas reads as tapestry, with a slight sheen that dances across its surface as the viewer changes sightlines. Very little is recognizable about the canvas until you learn that the work is based on the artist's recollection of the way Zulu men's ear plugs (decorated pieces of wood placed within the earlobe) move when they dance. The work certainly is not literal, but one begins to sense whiffs of movement in the image set free from the bounds of gravity. The color pallet is diverse, almost jarringly so, but those short bands of color reign in the frenetic energy. It is a pleasing give and take that would be joyfully at home hanging beside a Western abstract painter like Henri Matisse.
In between the purely representational and wildly abstract are works that take on an ethereal, dreamlike quality that gives voice to each artist's aspirations, including two that are group efforts. The smaller, My Mother's Garden (2013) features four panels, each by a single artist, that create a unified whole. Subtle touches of individuality abound (such as Nonhlakanipho Mndiyatha's inclusion of a little white farmhouse), but together the pieces offer a veritable glimpse of Eden as these women capture their dreams of what a lush, verdant African garden entails. The larger The African Crucifixion captures this teamwork on a monumental scale. Commissioned for the Anglican Cathedral in Pietermaritzburg, South Africa, The African Crucifixion filters Christ's last moments through a distinctly African lens focusing on the natural world and highlighting social issues important to these women. To the left, the "Tree of Defeat" comments on societal ills (poverty, HIV/AIDS) that continue to confound the continent. To the right, the "Tree of Life" expounds upon the themes of abundance and joy first seen in My Mother's Garden. Lording over all is Christ, adorned with the beaded colors reminiscent of tribal adornment. It is a universal image from a distinctly African viewpoint that provides an eloquent conclusion to the exhibition.
The exhibition is a survey of work whose breadth feels more expansive than the one large exhibition space suggests. I found myself questioning why one section was titled Ubuhle Today given that these pieces were contemporaries of works elsewhere in the show but that observation speaks more about curatorial intent than the works themselves.   The joy and attention to detail is readily apparent and underscored in an accompanying video shot on location in South Africa. Watching these women work – seeing the way their fingers move very, very slowly across the canvas in their laps (larger panels can take up to a year to complete) underscores a dedication to one's work that I think all artists, regardless of where they hail from, can relate to on a core level. As individuals, their unique perspective on universal concepts like color, line and form begins a cross-cultural dialogue that extends beyond the museum's walls. On a community level, I am reminded that the same quest to create economically viable artist colonies is happening right here in DC. Perhaps we have more in common with these women than we think!
Ubuhle Women: Beadwork and the Art of Independence has been extended to January 4, 2015 at the Smithsonian Anacostia Community Museum. For more information, including special events related to the exhibition, visit their website by clicking HERE. Translations and pronunciations appearing in the article are courtesy of the Smithsonian Anacostia Community Museum.
.
.
.
.