Urban | Oxide at Studio Gallery is a collaborative exhibition featuring two artists: Pam Frederick and Veronica Szalus. Together they have developed a powerful, visual exploration on the transitional nature of urban environments. They build on the observation that "the urban environment is fluid, continually shifting, adjusting, decaying and renewing," regardless of whether these subtle changes are evident [1]. Frederick and Szalus support this notion both literally through the physical composition of their works, but also metaphorically by encouraging the viewer to consider how cities and their surroundings relate to human experiences.
Frederick has been focusing on her art for over 20 years, using a variety of mediums including collage, canvas and paper [2].  In this exhibition she layers photographs to create collages of recognizable locations from major cities, including Paris, London, New York and Washington, DC, or locations that would be conceptually familiar, such as Somewhere near Washington Square.  By doing so, she allows viewers not only to identify a landmark, but she also invites them to dive deeper and examine the intricacies within the frame.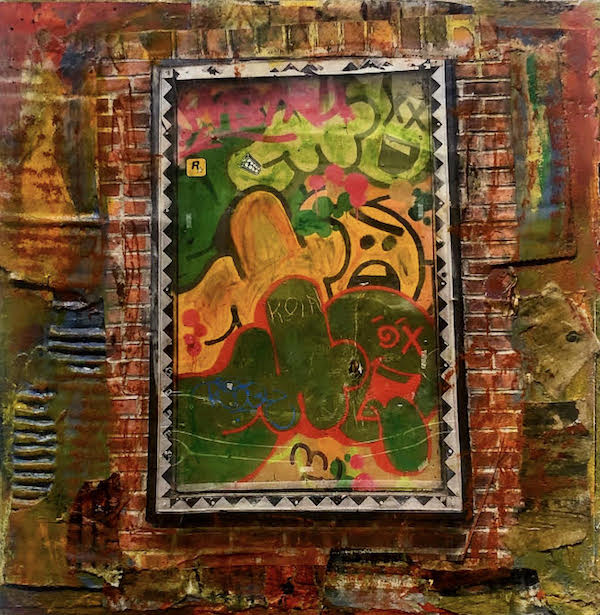 One work that directly relates to Washingtonians is Pawnbroker. While Frederick's subject is made clear from the text she includes, the artist layers in images of the folding metal, nearby graffiti, and tiling that may not have been as noticeable to someone simply walking by the pawn shop. She highlights words, symbols and imagery alluding to hidden messages that may only resonate with some. This, in association with the location triggers memory, forcing an individual to consider familiarity with the site and its significance to him/her. Similarly, in Brooklyn Bridge/City Hall, Frederick uses well-known imagery to conjure viewers' memories, which are amplified by their particular experiences of such places.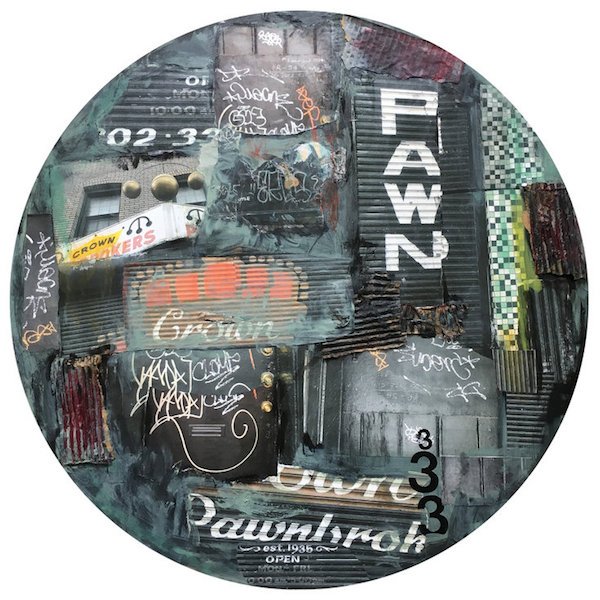 While Frederick focuses on portraying particular locations, Szalus brings attention to the seemingly ordinary materials that are common in urban environments through her site-specific installations. At Studio Gallery, she uses a variety of building materials such as concrete and rebar, highlighting "active rust", or the rust that forms and grows through the interaction with light and the natural elements. Szalus describes her work as "demonstrating the constancy of transformative change that extends from the life of organic matter to the existence of the non-organic." [3]
Szalus's sculptures and works are interspersed amongst Frederick's collages, giving the gallery space a gritty, unfinished feeling. This is an aesthetic that is all too familiar to those who have lived in a city space, constantly becoming aware of its continual expansion.  Yet,  pausing to take a closer look at a work like Oxidized Soul, the viewer begins to notice the uniqueness and beauty in the transformation of otherwise mundane objects. The metallic lids contrast with the orange hues of the rust, providing a canvas for nature's abstract painting.
Another one of Szalus's works that indicates transformation is the sculpture that is front and center when you walk into Studio Gallery. Tilted Soul is not moving, but certainly feels like it could be. There are a number of paint cans that are set off-kilter with rods protruding from the tops.  They connote a sense of circular motion, as if a single touch could set the entire work off balance. The white wires connecting the rods to each other represent seem to track the implied movement.  Szalus's sculpture is delicate, but objectively strong with sturdy materials regularly used for infrastructure.
A major goal in Frederick's and Szalus's works in Urban | Oxide is to examine the relationship of "development, reconstruction, and decay" in urban environments [1]. Cities are by default transient and transformative, shifting as a result of the people that flow in and out in combination with natural causes. To do this, Frederick compiles photographs and builds them into compositions on top of one another, while Szalus has used the stripped down, bare construction materials as the subjects of her sculptures. Both successfully exist in the same space, mirroring the dynamic and image of urbanized areas. Urban environments and elements within them are regularly constructed and torn down. These are in a constant cycle of regeneration.
Additionally, Frederick and Szalus aim to make a distinction between memory and documentation. In Frederick's works, while each photograph indicates a moment frozen in time, the compilation of images develops a collection of moments each with their own story. This allows a variety of viewers to connect with her work regardless of the fact that they personally did not take the photograph. It elicits nostalgia and provides a sense of closeness through documentation that provokes memory. Undoubtedly, interpretation and emotion is based on personal experiences. For example, seeing the raw construction materials and the rust forming on the paint lids in Szalus's work may be oddly comforting to someone who is familiar with city landscapes. It is the memories and feelings triggered by these works, not the precise place or object they represent that matters. The existence of the objects in this exhibit remains factual, while individual interpretation will inevitably be different for each viewer.
The themes of development and decay, memory and documentation reflect the human experience of living in fast-paced, transformative environments. Humans exist in, and contribute to, a living ecosystem. Consequently, we continuously impact our surroundings and each other. By embracing and understanding the impermanence of the urban environment, we may start seeing the beauty in the smaller things and subtle shifts that are constantly taking place.
Urban | Oxide is on view until July 20th. For more information, visit the gallery's website at www.studiogallerydc.com. The gallery is located at 2108 R Street NW, Washington DC, 20008. Gallery Hours are Wednesday through Friday, 1pm to 6pm, and Saturday 11am to 6pm.
---
[1] Studio Gallery's Statement to the Exhibition
[2] Pam Frederick – Artist's Statement
[3] Veronica Szalus – Artists Statement