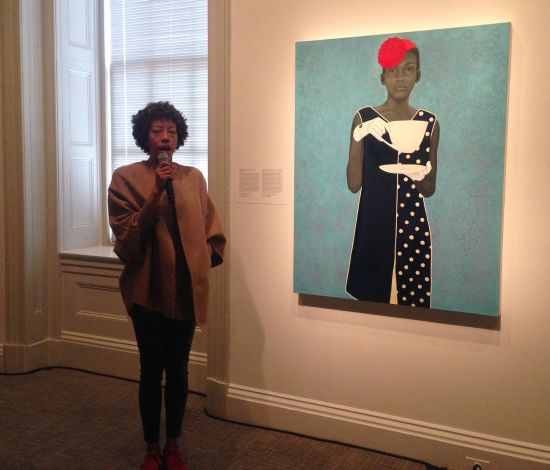 At a press conference held March 11, 2016 at the Smithsonian's National Portrait Gallery, Director Kim Sajet announced the winners of the Outwin Boochever Portrait Competition 2016. Baltimore-based artist Amy Sherald took the top prize with her painting Miss Everything (Unsuppressed Deliverance), and will receive $25,000 and a commission from the Portrait Gallery to create a work for the permanent collection. Second and third prizes were awarded to Cynthia Henebry of Richmond, VA and Joel Daniel Phillips of Oakland, CA, respectively.
The portrait gallery is rightfully known for its representations of influential Americans, with leading politicians, intellectuals and artists lining the gallery walls. The Outwin Boochever Portrait Competition doesn't just highlight contemporary artistic merit—it shines a light on the rest of us: youth whose futures are still uncharted; the wizened faces of our elders; newcomers to our shores seeking to reinvent themselves. In short, the triennial exhibition celebrates the tapestry that is modern America.
The 2016 iteration quietly, yet forcefully, highlights the subtle changes drifting across our land. Election season dialogue was surely on the minds of the jurors, whom Director Sajet notes have created an exhibition that, "really reflects what we are talking about in the nation." Miss Everything (Unsuppressed Deliverance), while not the most bombastic, beautifully lays bare some of the palpable tensions occurring as our national identity slowly changes. Painted upon a mottled, hazy backdrop with tones of blue and violet is a striking woman of indeterminate age. The woman's simple dress presents a stark backdrop for a teacup that one quickly realizes is oversized and hence unworldly.
In her short talk to the press, Sherald points to the story of Alice in Wonderland as an inspiration for the work. In that the piece captures a sense of parallel universes sitting side-by-side, the similarity is apt. Yet this is no whimsical tale, as the sitter's blank—almost bleak—stare seems to underscore. The woman's arms are rigid, the body slightly tense, as if to suggest she's not necessarily comfortable with either her wardrobe or the audience gaze. Sherald speaks about the "transcendental angst" she's experienced, growing up as a woman of color and the presupposed stereotypes hoisted upon her very existence. Likewise her figure, painted in grey fleshtones that (as the catalogue notes) "omits" skin color, exists across cultural boundaries without fully embodying any simple, straightforward narrative. The viewer, like the sitter, is left with no simple answers. Her path forward, like our national identity writ large, embodies multiple experiences not always harmoniously expressed. In that regard, Miss Everything functions as both a personal, emotional declaration and a subtle-yet-unflinching commentary on our current state of affairs.
The Outwin 2016: American Portraiture Today runs through January 8, 2017 at the Smithsonian Institution's National Portrait Gallery.  For more information, visit the gallery's website here.