Flesh wrinkles, weakens from aging until it ceases. Fragile like a soap bubble, yet sensuously, urgently wanting nibbles. It's the thing just draped over our symmetrical frame; something to protect that asymmetrical pile of organs. A landing site for tattoos, kneading fingers, and furiously clenched fists. Abused, caressed, immolated, young, old, fucked, sold, loved—flesh is the fragile human thesis and is the also the title of the current exhibition on view through November 5 at Olly Olly.  Curated by Jessica Kallista, Flesh packs in ten artists working in a plethora of mediums.
Jeffery Herrity's Peep Show has the viewer go so low, your butthole is open for all to see. The view needs to stoop to peek inside a small window. On hands and knees with buttocks hoisted—a penitent gesture before the sculptural altar, lewd, prone, prostrate. All while coy porcelain cherubic figures look on.
Like flesh, not all of the art is for sale; some is free. The Femme Project's collaborative and educational Respect Her Sex are origami vulvae and female sexuality fact cards. The folded paper and cards are left in public places. On site at Olly Olly, the viewer is invited to make their own origami vulvae, complete with instructions on construction.
Dafna Steinberg's collage aligns meaning through eras of the printed image, delving into the body battleground. Her collages have text and images colliding together. Foregrounding questions about wherein the power lies and who gets to control the narrative of beauty and sovereignty over the body.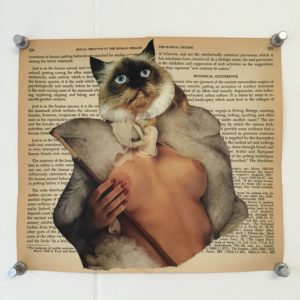 Adrian Parsons' Sex Map DMV is an ongoing collaborative project wherein anonymous participants pin locations of sex acts having occurred in DC, Maryland, and Virginia. Viewers can go online and voyeuristically read the pinned entries. Some entries are merely numbers, marks on a map where a sex act ensued while other entries briefly describe settings or situations.
https://www.google.com/maps/d/viewer?mid=1eE194_xPiannEoR2SzjKBEcE5p8
Flesh at Olly Olly offers up humor, seriousness, and a challenge—a challenge to touch and be touched. Ultimately, flesh is a teacher, a tormentor and a trickster.
---
Flesh is on view through November 5 and works can be seen by appointment by calling 703-789-6144 . Olly Olly is located at 10417 Main Street, second floor, Fairfax, VA 22030. Visit the gallery online at ollyollyart.com