Imagine a space that simultaneously functions as an arrival point and a place from which to depart, a placeholder for ideas, memories or even our deepest desires.  That is the focus taken by Dr. Claudia Rousseau, curator for Landmarks, a group exhibition featuring artists from the Washington Sculptors Group.  While the concept of a landmark may often be thought of in geographic terms as a visual construct to denote the importance of a particular locale, Dr. Rousseau's selection of artists weighs heavily to works that concentrate more on moments of emotional significance.  Some of these moments are intimately personal; some shout from the rooftops.  In all of them shades of sentimentality and remembrance rise to the fore.
That sense of personal reflection is observed even in the few works that focus are based on a geographic place or construct.  Nizette Brennan's Monteggiori features a representation of a hillside Italian village carved from Italian marble. Rather than capturing the likeness of a specific place, the artist aims to capture a whiff of the cultural spirit of a location that is perhaps steeped in a more traditional way of life.  Likewise Topography/River #2 by Joan Mayfield doesn't depict a specific body of water, but in using found wood, Mayfield attempts to capture the essence of home.  Ruth Lozner's two works Aftermath and Home at Last: A Reliquary also use specific building forms in her reflections of long-lost events.
From here the landmarks on display quickly delve into more mental terrain.  Mary Anella Mimi Frank, Linda Hesh and Julie Zirlin all reference historical moments sweeping across society including women's' suffrage, gay marriage and the refugee crisis, respectively. Other works, including Mike Shaffer's and Martin Feldman's odes to scientific achievement and Annie Farrar's recounting of history embodied in Napoleon and Josephine wax poetic about the idea of history itself, highlighting eddies in the ripple of time.
While these works are certainly relatable across a large audience, they lack a certain intimacy featured in pieces that highlight individual artists' emotional lives.  Works that are totemic in nature, where the significance is obvious only to the creator, are some of the most captivating in the exhibition.  This idea of a totem is literally embedded in the works of Alan Binstock and Roy Ysla, where the titles incorporate the word itself, but also symbolically in the vertical forms of Jan Paul Acton's Red Tower and the diminutive Here by L.S. Watson.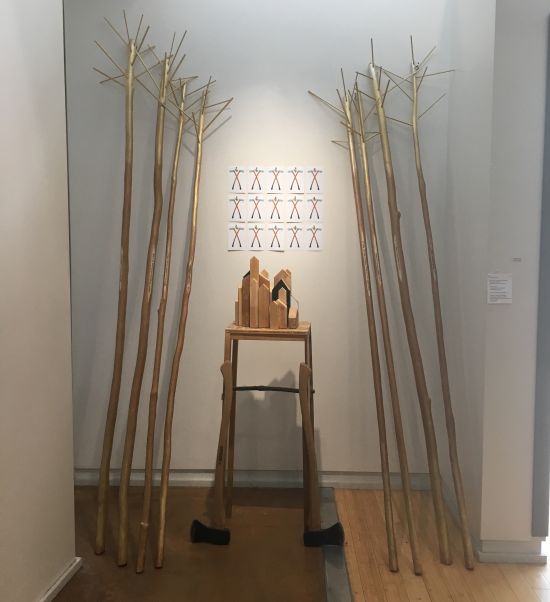 Other works hold their secrets close.  Act II by Jacqui Crocetta features budding forms emerging from a cocoon-like structure which the catalogue notes relates to a breakthrough in creative thought—something which the casual observer would not easily discern.  Likewise The Mensah Series by Alonzo Davis presents a series of hanging forms with no clear-cut link to the friendship they honor.  Artists c. l. bigelow and Kass McGowan have created works that function almost as reliquaries for closely-held emotions.  Rosemary Luckett's Trail Markers incorporates a geometric cityscape, but the poem inscribed on the wooden poles draws the viewer's attention to Luckett's inner thoughts.
While these subtleties are in some ways confounding (the accompanying catalogue is helpful in this regard), they also ingeniously force the viewer to slow down and bear witness to the artists' sensibilities. In this regard they create a multi-dimensional dialogue encompassing artist-culture-audience and underscore the notion that landmarks are not fixed points on a map but transitory ideas subject to the vicissitudes of time and memory.
Landmarks is on view at Montgomery College's King Street Gallery at the Morris and Gwendolyn Cafritz Foundation Arts Center in Silver Spring through Tue., Nov. 21.  For more information, visit the College's exhibition schedule  here.
Banner image:  Remembering the Asylum Seekers (detail) by Julie Zilrin.
---
Editor's Note: Claudia Rousseau, Ph.D. contributes to East City Art