At a political moment when rigid stereotypes run rampant, Arlington Arts Center's Spring SOLOS 2019 presents seven emerging and established contemporary artists from the Mid-Atlantic region who do not fit into neat boxes. Selected by outside jurors Natalie Campbell, independent curator, and Peter Winant, director of the School of Art at George Mason University, each artist mounts a small solo exhibition in a separate gallery, a format that lends itself to AAC's increasing emphasis on site-specific work.
As a whole, the artists address the broad theme of the environment, both in the sense of the natural world as well as the institutions that shape our surroundings, including school, the military, and government. While some have a local or regional focus and others tackle national and global issues, they all challenge viewers to revisit their own perspectives.
Jack Warner: Post Eponymous: Finding Pathways
 Jack Warner is an art teacher at the same Maryland middle school that he himself attended. It's also where he salvaged materials like drawing boards, a desk, and linoleum tiles to create the five sculptures on view at AAC. As sculptural hybrids of school houses and lockers, Bullyproof Locker and Derivative Contraband closely tie in to the history of the AAC's building, which used to be the Maury School.
Constructed primarily from graffitied drawing boards, they explore how school experiences linger in the corners of memory. The locker doors are slightly open to reveal objects ranging from a sled to a military uniform, suggesting partially obscured images from a collective psyche. By including the uniform, Warner, who is also a Marine veteran, further implies that the rigorous structure of primary and secondary education provides a pipeline to the military.
Brian Barr: poiesis (mimesis)
Educational materials also provide artistic fodder for Brian Barr. He Xeroxes, crops, and reorganizes text and images from a tome on ancient Greek sculpture. Having enlarged the altered copies onto three large pieces of vinyl, Barr suspends them on frames he has fashioned from pipes, in effect transforming two-dimensional images of three-dimensional portraits from the dawn of Western civilization into freestanding sculptures.
The poiesis of the exhibition's title refers to the idea of bringing something into existence, that is, the creative act associated with art and poetry in ancient Greek philosophy. Mimesis, which means imitation, was another word for painting. Yet Barr does not imitate but rather reconfigures earlier art, leaving out crucial content as if to ask: What is the minimum visual information required to make sense of something? And further, when do we begin to fill in the gaps with the things we already believe?
Since these questions have fascinated both linguists as well as Cubists and Conceptual artists alike, it might seem like Barr isn't adding anything new. After all, the Cubists painted abstract, puzzle-like portraits more than a century ago. However, by using art from an early democratic society as the basis for his work at a time when many argue that American democracy is in peril, the artist reminds us how important it is to fully evaluate what is right in front of us instead jumping to conclusions.
Greg Stewart: A Turning and a Strange Appearance
Greg Stewart's two interactive works address conservation, with a focus on the birds of Virginia. The first piece, Freezer, invites viewers to enjoy chocolate-dipped ice cream in the shapes of four species of birds on the state's list of threatened species, albeit with a warning that there are a finite number available. The link between consumption and the exhaustion of resources certainly made the treats less appetizing, but the second work is more successful in its subtlety.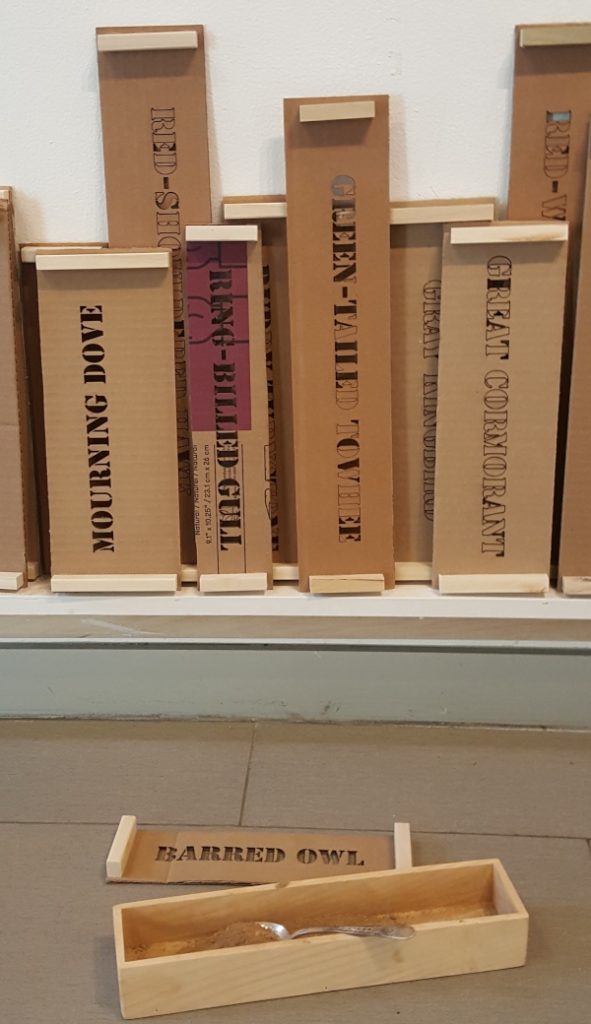 A display of shelves filled with cardboard stencils of the names of all the birds of Virginia anchors Stencils, the second piece. Visitors may gather supplies to make a stencil from a small wooden table in the center of the gallery. Instead of paint, however, they are provided with dirt, which makes for a blurred, scattered impression. Stewart thereby suggests that memorials would be poor substitutes should unrestrained consumption lead to the birds' extinction.
Noel Kassewitz: They say hope floats, but I'd rather be sure…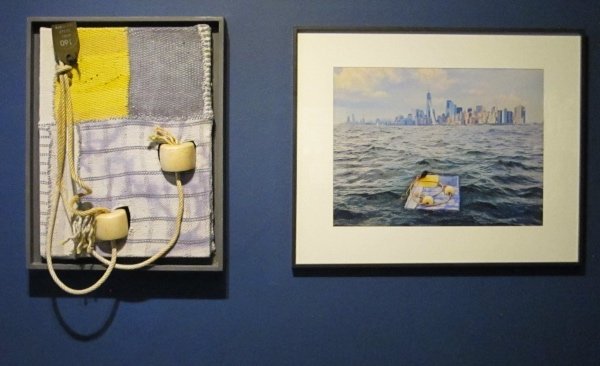 Recent environmental disasters have prompted Noel Kassewitz to ask: "How does an artist prepare for climate change?" In the event of a flood, her abstract canvases could be wrested from the wall and used as flotation devices. Although the bold swaths of color evoke the work of male modernist heavyweights like Mark Rothko, these objects also build on the tradition of women's handiwork. Western art historical tradition values the "male" sphere of pure art over the more utilitarian practices associated with the "female" domestic sphere, such as sewing. However, Kassewitz harnesses the latter to create a more durable art form, stitching together thick burlap over pool noodles and innertubes. She then photographs her work afloat to prove its functionality and resilience.
The central installation, entitled The Weight of Paradise (I Wish You Were Here), is a pile of sandbags with a marble head emerging from one end, visualizing feelings of being overwhelmed by climate change. Given Kassewitz's emphasis on practicality, moving away from wall art makes sense. Nevertheless, as she abandons her gendered take on the role of art in the face of global warming, the message seems more heavy-handed.
Greta Bergstresser: Guns, Gold, and Going Green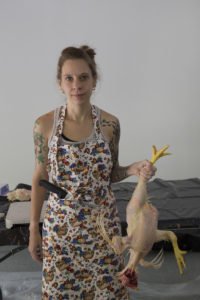 In Guns, Gold, and Going Green, Greta Bergstresser presents four gallery walls of photos in AAC's Tiffany Gallery, which features four large stained-glass windows. The stylized baskets of flowers on the windows are compelling foils to Bergstresser's photographs, which document rural life. Taken between 2008 and 2018, they include Self-portrait on Chicken Day, 2015, in which the artist, wearing an apron with a knife tucked in the front, holds up a freshly killed bird.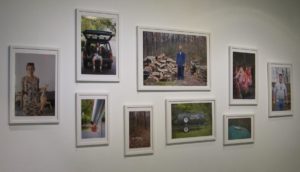 Bergstresser grew up on a self-sustaining sheep farm in Pennsylvania and now lives among people who, like her, have rejected capitalist consumerism in favor of self-sufficiency. Their reasons for doing so, however, range from environmental concerns to extreme right-wing fears of an impending doomsday. The gallery wall format does not purport to tell the whole story, but it does reveal enough to challenge preconceived notions of environmentalists and second amendment supporters alike. Despite their efforts to escape capitalism, it surfaces in several of Bergstresser's photographs: a little boy in the woods wears a blue plastic bucket on his head, while a hunter sports a fluorescent orange hat with a popular logo.
Ying Zhu: Peaks and Waves
 Ying Zhu transforms the space of the gallery into an imaginative landscape. From certain angles, the flower-like forms made from thread and metal pins on the walls resemble mountain ranges. On the floor, ten abstract, mosaic-like compositions in white shadow boxes evoke waves. Created from fragments of eggshells set vertically into scored paperboard, the organic compositions seem to shift as the viewer moves around them.
Zhu, who is originally from China and spent many years in Nebraska before moving to Washington, D.C., told me that her experience as an immigrant led her to incorporate these shifting perspectives into her work. She has found that her cultural background often leads her to see things differently, but that nature remains a constant. To that end, the lynchpin of her installation is a gilded bonsai tree, which is affixed horizontally to the back wall, between the symbolic mountains and sea. Like Zhu herself, it has been uprooted and reoriented, and now perceives the world from a new vantage point.
Emily Campbell: Reverie
Emily Campbell's installation consists of four large white line drawings with black backgrounds and a group of totem-like plaster sculptures laid out like chess pieces on the floor. Her meticulously planned compositions belie the bizarre nature of her subject matter: festivals or parades in which delight gives way to debauchery. The longer you look, the more confusing they become. Hybrid human and animal forms do not conform to traditional categories of sex and gender; sexual pleasure is indistinct from sexual violence; and victims are also perpetrators.
In pairing aesthetic rigor with scenes of mayhem, Campbell suggests that social order can breed chaos. When juxtaposed with scenes of violence, the totems, masks, obscure rituals, and patterned costumes throughout the compositions could be interpreted as historical references to colonization in the Americas. Yet by including a figure with a smartphone, she brings it up to the present, asking viewers if they will disengage, join in, or forge a new order.
AAC's Spring SOLOS 2019 includes a range of unexpected perspectives, but the common thread is the artists' critical engagement with the surrounding world. Visitors are sure to encounter an even broader spectrum of artistic viewpoints at its first regional biennial this fall. Until then, two additional shows are well worth viewing. AAC features a resident artist in Roxana Alger Geffen: The Binding Ties and local high school students in H-B Woodlawn Seniors: Onwards and Upwards. Both exhibits explore personal and institutional histories.
Unless otherwise noted, all works are from 2019.
Spring SOLOS 2019 is on view through June 7, 2019. For more information, visit AAC's website at https://arlingtonartscenter.org. It is located at 3550 Wilson Boulevard, Arlington, VA 22201. Hours are Wednesday-Sunday, 12-5 p.m. or by appointment. Admission is free.