Few locales excite a certain class of artist as much as a derelict building–where we see decay, they see a vast canvas and Amy Hughes Braden is one such artist. Under her direction, the future home of Art Works Now has been transformed into Tilling Phase, a laboratory of visual and aural ideas, christening the one-time flower shop with artistic juju as it transforms into a community centerpiece in the Gateway Arts District.
The sturdiness of the brick façade belies the raw, post-industrial nature of the interior spaces where wires hang from the ceiling, pipes jut from the floor and random walls are missing. Hughes Braden, a 2011 Corcoran graduate and teaching artist at Art Works Now, convinced the executive team that the venue in its current state was ripe with artistic potential. The artist was given carte blanche to create a group exhibition that responds to this chaos in a visceral way. As it happens, Hughes Braden is currently enrolled in Transformer Gallery's Exercises for Emerging Artists peer critique and mentorship program, giving her a ready-made group of artists to build the roster around. The title of the exhibition, Tilling Phase, plays upon the changing nature of the building's interior. Like a farmer who tills the soil, stirring up the landscape and setting the stage for future growth, the twenty-plus artists exhibited here seek to imprint their creative sensibilities on the very structure of the building.
The result is a controlled cacophony of vignettes splayed across the concrete floors, adhering to the walls and in some cases enveloping sections of the building. A very DIY aesthetic runs through the exhibition as artists make liberal use of the building's cast-off materials (who knew vertical venetian blinds were so multipurpose!), further grounding their works within the shell of the building.  The initial sensory overload comes with a whiff of deja vu; artistic pop-ups within derelict spaces have become commonplace, and the viewer might understandably feel they're walking into yet another Artomatic permutation.
Not to knock Artomatic (it's a powerful event on our region's cultural calendar) but such comparisons belie the curatorial seriousness which Hughes Braden lays before us. While on the surface these vignettes present a froth of mixed-media, the artists themselves present a surprisingly cohesive narrative in their attempts to claim geography as their own. There is an inherent playfulness to the project, but that sense of whimsy is overshadowed by more poignant emotions, as the majority of artists seem to emphasize the more physical challenges inherent in the building's "growing pains". Transformation is not effortless, they seem to imply, but involves both the strain of physical stamina and a certain psychic upheaval to see the process through.
The work displayed can broadly be placed into two different categories. Several works on view were originally created in a studio setting, and their orchestrated placement here heightens the visual drama between environment and art. Other works are constructed (in whole or part) in a more site-specific manner, making the building's architecture or cast-off remains an integral part of the work. While it is readily apparent that Hughes Braden has thoughtfully placed all these disparate works to stir dialogue, the latter category of works (perhaps not surprisingly) offers up a more richly-nuanced, emotional exploration of the space they inhabit.
One of the most emboldened of these works is also one of the pieces you'll first encounter within the exhibition. Situated just steps past the front door, Neon Necklaces by Margo Elsayd begins life as two-dimensional wall painting before morphing into a horizontal cyclone of materials splayed across the floor. The piece could easily stray from exuberance to clutter if not for Elsayd's clever use of neon-colored elements which unites the disparate elements into a kinetic form. The artist researched the history of this particular stretch of Rhode Island Avenue, noting that while the buildings along the stretch lacked a cohesive style, they often shared an affinity for neon. These whimsies playfully coalesce the disparate elements as they simultaneously highlight the notion that gentrification is at its core a process of transformation.
Contrasting Elayd's visual whimsy-cum-poignant statement is Alex Braden's uncomfortable sound piece Nickel Ride (Why Don't You do Right). Where Neon Necklaces projects its kinetic energy out into the room, Nickel Ride bottles it up into an emotional powder keg awaiting a spark. Nickel Ride is immediately visceral; it takes its title from the unfortunate practice of police officers purposefully driving their arrestees in a manner to cause bodily harm. The visual component of the work is stark–an empty 55 gallon drum upon a wood pallet. But the discordant sounds emanating from within and around the drum–the thumping bass of a Kendrick Lamar album overlaying the dulcet voice of Peggy Lee–are seemingly amplified within the tightly enclosed space, lit only by a single, bare bulb dangling on a thin wire. The base and treble are out of sync–jarring–and I suddenly feel claustrophobic–as if the walls and ceiling are closing in. Braden's choice of space is exceedingly intentional–transforming our vision, if only momentarily, to the back of that police van. I breathe a sigh of relief (and thankful prayer) as I exit the room.
While currents of emotional tension run through the building, not all subject the viewer to uncomfortable contemplation. Samantha Rausch's Crystal Kiss reminds us that transformations can also be joyous, celebratory events. Situated in the building's attached greenhouse, Crystal Kiss features a giant anthropomorphic form weaving its tentacled-way amongst the metal supports, at times slipping past the confines of the glass planes to envelope the frame itself. Dangling at spaced intervals are crystals that appear to hover over cone forms rising like stalagmites from their sandy base. Lit with ambient daylight or spots at night, the greenhouse is invested with a magical quality, as if a parallel universe has suddenly collided with our own. Muggles may be oblivious, but the sensorial gifted among us will surely sense the pulse of life running through the metal structure.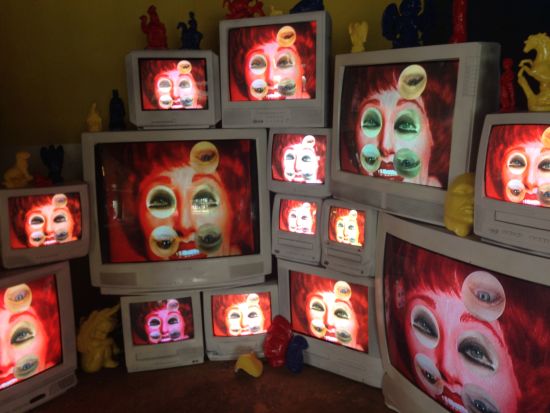 Works continue to grab one's attention at every turn. Y2K 2.0, from the Flower Boyz liberally borrow from Naim June Paik while goading us out of complacency. Nehemiah Dixon's Optic White features a textile hoodie sculpture dangling from the ceiling. Dixon recently displayed a series of these sculptures at the Prince George's African American Museum and Cultural Center. Reinstalling one here, dangling from a chain within a crumbling room, adds another layer to the fraught emotional landscape he presented down the Avenue. Marissa Long's Forever Melon C-print adds a playful cheekiness, balancing out some of the more somber notes amongst her peers.
The plethora of emotional chords at play underscores the tight curation–not an easy feat with over twenty artists under one roof. Not every work reacts to its environment with the same emotional intensity. Oil and mixed media works by David Ibata and Chanel Compton, for example, don't pack the psychic wallop as some of their cohort. And perhaps thankfully so; calm interludes are necessary amongst emotional outbursts, fortifying us for what is to come. Tilling Phase certainly lays the groundwork for a vibrant community art space to bloom.

---
Tilling Phase runs through June 20th, 2015 at Art Works Now's future 4800 Rhode Island Avenue headquarters. Gallery Hours are by appointment, contact Amyhughesbraden@gmail.com for details.
A closing party for Tiling Phase is scheduled for June 20th from 7-10 p.m. and will feature artist performances and other surprises. Visit their Facebook page here for more details.