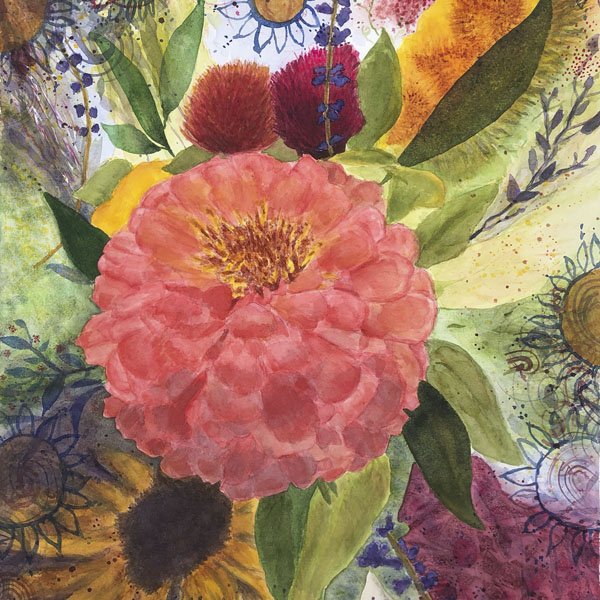 Summer classes in Takoma, Rockville, and Online with Community Arts at Montgomery College
Register for summer arts classes for adults and teens. Sign up today, seats are filling fast! Check out a sampling below, or see the full list of over 80 offerings at montgomerycollege.edu/communityarts.
Community Arts classes are for artists and hobbyists 16 and up. Discounts are available on most classes for Maryland seniors 60 and up.
Takoma Park/Silver Spring Campus
Saturdays 6/3-7/29 | 1-4pm
with Wanjin Kim, Holly Trout, and Racquel Keller
$49/session or $294 for the series
Discover new and exciting drawing techniques that enable you to tap into your creativity. You may take the workshops individually or as a full series.
Topics: Drawing Basics, Watercolor Pencil & Graphite Still Life, Hands in Charcoal & Conté, Portraiture in Multiple Media, Colored Pencil Still Life, Expressive Line & Nature, Ink Still Life, and Abstraction with Oil Pastels.
Takoma Park/Silver Spring Campus
Wednesdays 5/31-6/28 | 12-2pm
Thursdays 7/6-8/3 | 7-9pm
Single sessions, drop-ins welcome
with Jerry Truong
Free to all
Get your artwork critiqued and practice your critique skills on other artists' work! Gain insight into the artistic process as you collaborate to improve an artist's work and its interpretation. Leave the critique with new inspiration and a deeper understanding of how to analyze and discuss artwork.
Rockville Campus
Wednesdays 7/12-8/9 | 1:30-4:30pm
with Donovan Marks
$219 | $95 seniors
Capture striking, off-the-cuff images of everyday life. Learn the strategies of a street photographer, like pre-focusing and the no-look shot. Explore composition and storytelling techniques like juxtaposition, color contrast, and implied narrative. Go out in the field as a class and put your new skills to the test!
THE CRITIC'S LENS
Online via Zoom
Saturdays 6/3-7/1 | 10am-12:30pm
with Rissa Miller
$194 | $75 seniors
Art historians, critics, and curators shape our expectations before we even see an artwork. Illuminate the forces that define why, how, and even what we see. Gain a broader understanding of the legacies of art criticism and museum curation and find a more active, personal, and meaningful relationship to art.
Takoma Park/Silver Spring Campus
Fridays 6/2-8/11 | 10am-12:30pm
with Wendelin Daniels
$344 | $145 seniors
Create your own original art doll! Explore the design process for creating three-dimensional human forms in mixed media. Begin with rough design concepts and proportional figure sketching, and finish by hard sculpting the doll's head and hands, soft-sculpting the doll's body, and sewing the doll's costume.
Takoma Park/Silver Spring Campus
Tuesdays 6/6-8/1 | 6:30-9:30 p.m.
with Jerry Truong
Online via Zoom
Mondays & Wednesdays 5/31-6/28 | 6:30-9:30pm
with Jerry Truong
$344 | $145 seniors
Discover Photoshop, the industry standard for image editing. Start your Photoshop journey with the basics, learning different types of image editing and exploring the tools that give you ultimate control over your digital artwork. Experiment with retouching and altering existing images and creating your own.
Takoma Park/Silver Spring Campus
Tuesdays & Thursdays 5/30-6/29 | 10-12:30am
with Robert Devers
$344 | $145 seniors
Discover Italian maiolica ceramic painting, a brightly colorful, low-fire glaze process. Combine this with other low-fire methods, such as fired-on ceramic decals, to build up a richly layered surface. Working with six-inch bisque tiles and plate forms, create projects that you can integrate into formats such as trivets, framed tile paintings, and table-tops.
Takoma Park/Silver Spring Campus
Tuesdays 5/30-7/25 | 6:30-9:30pm
with Racquel Keller
$344 | $145 seniors
Explore the amazing medium of acrylic paints! Acrylic is the dominant painting medium of the 20th century, used by artists like Rothko, Warhol, and Hockney. It's also non-toxic and cleans up with water! Learn how to use a wide variety of acrylic products, including paint, gels, medium, and grounds.
Takoma Park/Silver Spring Campus
5/30-7/6 | 9am-1pm
with Kevin Bowman
$532.20 | $136.20 seniors
Discover monotype, the printmaking process that produces unique. One-off prints. Explore ink application strategies, layering, and masks. Master the use of a printing press for creating clean, even prints. This process is a perfect bridge to printmaking for anyone who enjoys painting.