This article is cross-posted in the following DC Blogs:
If there ever was a weekend to come to East City, Saturday May 14 would be it.  With over 120 artists opening their studios and workshops in the towns of Brentwood, Hyattsville and Mount Rainier and six openings on Capitol Hill and H Street NE, the center of the DC art world has definitely shifted east.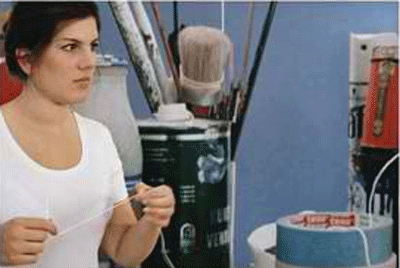 Saturday May 14
The Gateway Arts District located just over Eastern Avenue in the towns of Brentwood, Hyattsville and Mount Rainier will host an afternoon of open houses featuring 120 artists, 70 participating studios and 15 venues including the Brentwood Arts Exchange, Joe's Movement Emporium and the Washington Glass Studios.  The event begins at noon and ends officially at 5pm.  For more information including all participating artists, venues and a map of the Gateway Arts District including all participating venues and shuttle bus information click here.
The Capitol Hill Arts Workshop final ArtDays of the spring and will host Printmaking at 10:00 am and 11:00 am. Learn to make unique one of a kind prints using textures and recycled and found objects. For all ages. Registration required at (202) 547-6839.  CHAW is located at 545 7th Street, SE Washington, DC
That evening at CHAW from 5pm to 7pm, the Capitol Hill Art League presents Coming Home, Lighting Out, the league's second annual juried exhibition from 5pm to 7pm.  Juror Jack Rasmussen, director of the American University Katzen Center Museum is scheduled to speak at 5:30pm.
Just up G Street SE from CHAW, from 7pm to 10pm see The Fridge's Cold Light: Bioluminescent Evolution, a group show combining science and art with glow-in-the-dark revelry. The Fridge is located in the Rear Alley behind 516 8th Street SE.
Over in the H street corridor, Evolve Urban Arts Project will showcase the colorful and bold paintings of Lindsey Applebee in an exhibition entitled Shenanigans.  Evolve urban Arts is located at the Pierce School Lofts at 1375 Maryland Avenue, NE.
G Fine presents world renowned artist Barbara Probst who uses radio-controlled shutters for multiple cameras resulting in photographs that are seen from multiple angle and perspectives.  The event takes place from 6pm to 8pm . G Fine Art is located at 1350 Florida Avenue NE.
Next door, Conner Contemporary Art hosts several concurrent exhibitions including three emerging *gogo project artists at their 1358 Florida Avenue NE location.  The opening runs from 6pm to 8pm.
Upstairs, above Conner, Industry Gallery will present Flexible Love, flexible accordion-like made of recycled materials that can be shaped in as many ways as you can imagine.  The opening runs from 6pm to 8pm.  Industry Gallery is located at 1358 Florida Avenue NE.
.
.