Currently on view at MOCA Arlington is their second biennial exhibition Assembly 2022: Time and Attention featuring the work of 12 artists from across the country. They each respond to the issues that have preoccupied many minds since 2020, such as the reimagining of monuments, untaught histories, activities during isolation, rest, and care.[1] I was especially struck by the artists who explored the notion of "home" and who made use of erosion and assemblage in creating their work. These artworks highlight how the events of the past three years have caused many of us to question the pre-2020 world and think about alternative ways of being and doing.
Some of the first works in the exhibition are Sandy Williams's The (Bronze) Wax Monuments I and II.  These two sculptures, which stand only a few inches tall, were cast from melted wax sculptures representing much larger monuments depicting former Presidents Lincoln and Jefferson. The heads and shoulders of both figures were melted when they were made of wax, and this diminishment was made permanent by the transfer to the bronze medium. These two works speak to ongoing national conversations about renegotiating the monuments we chose to represent the country. Similarly, another of Williams's works, 40 Acres, is instruction-based and is represented by photographic documentation of the work in action. The instructions are:
hire a skywriter to trace the dimensions of a forty-acre plot in the sky,
a square roughly ¼ of a mile on each side.
ask the pilot to write "40 Acres" within said square.
document this event from various distances.
The photographs capture the scene of a plane making the smoke patterns throughout a blue sky above Richmond's Chimborazo Park "which was the site of a Freedmen's Community in the period immediately following the Civil War…the community… was quickly dismantled by popular white supremacist legislation and violence."[2] Williams's excavation of history and attrition of monuments forces viewers to question our shared home, the United States, what it has represented and what it should represent.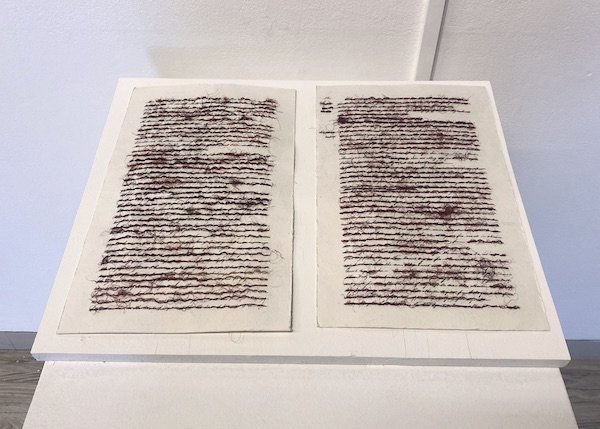 Trina Michelle Robinson's work both excavates history and redacts it, though it is on a more personal level. The text printed on two sheets of cotton paper is a copy of a will from 1835 containing the names of two of Robinson's ancestors, the names of other enslaved people, and when they will be freed.[3] A dark purple thread pierces this cotton paper and overtakes, or overcomes, the names and the pain their presence evokes. The medium line of this artwork details the origins of the materials used in this work, such as Senegal and North Carolina, which are likely also tied to the artist's ancestors. The result of this process and combination of materials is an illegible document that serves as evidence of the artist's own processing of her history. As the title suggests, this act of redaction is one that results in a form of liberation.
Erika Lynn Hanson's work more explicitly references erosion and land. In order to visually depict these geological phenomena, Hanson weaves together disparate materials and colors in an act of care and attention that results in a colorful structure. The title of one of her works gives form to the fields of color in the textile: the green circles start to look like lichen, the blues reference a monsoon, and the browns recall pit mines. The combination of these images attempts to visualize the ecological systems in which all of us are intertwined.
The above artworks explored personal and collective ties to lands, which are sometimes defined by national borders. Cecilia Kim's Far From Home, on the other hand, dissolves these borders by centering the experiences of migrants. This video work presents interviews with five individuals who, in some way or form, have lost homes and have had to readjust to new dwelling spaces. The recordings of these individuals as they share their stories are interlaced with visuals of three-dimensional digitally rendered fragments of architectural elements that evoke homes. The abstract notion of "home" is rebuilt when each of the interviewees present their own definitions of home.
The mixed media installation, entitled Bluer Skies for Brazen Hips, by Mandy Cano Villalobos references a home in both its scale and materials. The work consists of thousands of found objects including toys, textiles, knickknacks, lightbulbs, and flowers which are carefully arranged in a forward-facing orientation. These objects accumulate and form a towering altar that serves as a backdrop for the rug, chair, and television that stand between the structure and the viewer. The various colors and sizes make this repurposing of materials a stimulating and playful installation. Yet, the artist aims to engage the gendered nature of domestic care and labor, as is suggested by piles of folded clothes and teacher notes, and, in this context, the work becomes stressful and weighty.[4]
Kelly Taylor Mitchell's practice also makes use of found materials. In Untitled (Alabama #3) she brings together materials from various places that hold meaning for her. The artist also makes handmade paper and does her own embroidery which are collaged into the work. The patchwork amalgamation of these elements abstracts them from their original locations and significance. This removal neutralizes their prior context, resulting in an attractive arrangement of color and texture upon which viewers are invited to project their own associations.
While some works in this exhibit explore ideas of removing, excavating, and eroding, others focus on combining, rebuilding, and accumulating. The post-2020 world requires new foundations and in order to build something new, sometimes the old must be supplanted or taken apart and put back together in different ways. These artists also emphasize that this work should be done through a slow and contemplative act of care.
---
Assembly 2022: Time and Attention is on view from October 1, 2022 – January 29, 2023 at Museum of Contemporary Art Arlington located at 3550 Wilson Blvd, Arlington, VA 22201. For more information visit the gallery online at mocaarlington.org/exhibitions/
---
Caption for banner image: Mandy Cano Villalobos, Bluer Skies for Brazen Hips, mixed media installation, dimensions variable, 2022. Photo Credit: Adrian Hernandez.
[1] Some of these themes are mentioned in the gallery wall text and exhibition catalog.
[2] Gallery wall text for 40 Acres.
[3] Gallery wall text for Liberation Through Redaction.
[4] Gallery wall text for Bluer Skies for Brazen Hips.